10 PCS Pedicure / Manicure Set Nail Clippers Cleaner Cuticle Grooming Kit Case Drhotdeal $6.95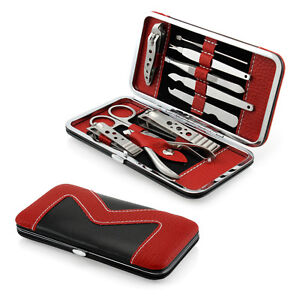 Buy This Item
ebay.com
Features
Model: 5971
Material: Metal
Color: Multi-Color
MPN: 5971 Beauty Care Set Stainless Steel
Type: Finger Nail Clipper
UPC: 649558329722
User reviews
For the person on the go this is a practical way to keep yourself well manicured. It has all the tools you need to keep yourself in tiptop shape. I personally found the large clippers a little 'light' for my needs. My nails are quite hard, and I would have preferred a heavier set of clippers. They worked and for the price, it was good value. You will note that the case they come in has a stylish M on the cover (I presume for Manicure Set). The monogram will also work if your name is Martin, Murray, Maxwell, Murphy or Marie. Maybe.
The set is cheap n unsafe. It has many sharp edges and is obvious lower cheaper materials were used. Price is not a bargain in this case. I got what I pay d for.
This has everything to use on hands and toes that I could think of. Easy opening case is good there is no trouble opening or closing. Susan Cureau
This will take care of most needs as far as manicure hygiene needs go, but should be left as a cost effective stocking stuffer at best. The case is real cheap due to the stitching already fraying before even being used, and the edge piping that holds the outside of the case leather in place was already dislodged upon opening of the package. It is just tubular piping and doesn't seem to "cinch" that edging the best it could. I tried to superglue it in there when repairing that edging but it didn't work at all. Anyway, I'm glad I didn't spend more on it, but will be a good stocking stuffer I can give away.
The instruments are all quality made not the flimsy type often seen at this price point. Also the case is well made and looks great too. It has all the tools needed for pedicure or manicure.