$100 Lowe's Physical Gift Card For Only $90!! – FREE 1st Class Mail Delivery $90.00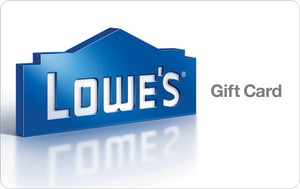 Buy This Item
ebay.com
Features
Valid Locations: US-Nationwide
User reviews
This is a great value. I have purchased from this seller many times and gotten similar (if not better) great deals on Lowe's gift cards. I've never had an issue in a Lowe's store or online with either the actual physical cards like this one or cards received by email that you print out. If you're a frequent Lowe's shopper like me, I highly recommend you try these and save yourself some money.
My wife and I are having one of our bathrooms completely remodeled. We wanted to wait until after the holidays to avoid the disruption a project like this brings to the household, especially when our children and their spouses would be home for the holidays. Well, while shopping on ebay for a couple of presents I needed, I came across these Lowe's Gift Cards: $90 for a $100 card, limited to three cards per household. The timing was absolutely perfect. I bought three cards and waited for them to arrive in the mail, hoping there wouldn't be any "special requirements/gimmicks" imposed on the buyer. Well, the cards arrived, we went to Lowe's, selected the materials needed for our little project, and applied all three cards towards the bill. It was easy - received my 10% discount using the cards, and charged the balance to my Lowe's credit card which gave me another 5% discount as well as special financing terms amortized over 18 months. The catalyst for these financial savings started with these three Lowe's Gift Cards. I figure, all things considered, I've saved somewhere around $400 thanks to finding these Lowe's Gift Cards on ebay! As I stated earlier - It was easy!
I received these quickly. Was a little apprehensive since purchasing them on-line, but I went to Lowes and had them verified before wrapping them up for Christmas. Perfect!!! Can't wait to use them! Spring is coming!
I purchased the gift card at a $10.00 savings and used my military discount for an additional 10% off, a great value to me, thanks
Great value! I bought 3! Would of liked more if I'd been allowed as was using them toward a riding mower but I still saved $30! Saving money is always a plus!