125B Handheld Leaf Blower Husqvarna 28cc 2 Stroke Gas Powered Variable Speed OEM Husqvarna $149.50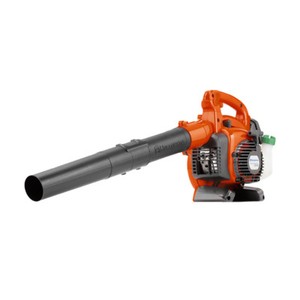 Buy This Item
ebay.com
Features
Model: 125B
Color: Orange
Power Source: Gas
Make: Husqvarna
Type: Handheld Leaf Blower
Part Type: Leaf Blower
Models: 125B
MPN: 125BBLOWERNEWUA
Genuine OEM: YES
UPC: 024761016797
EAN: 0024761016797
User reviews
I purchased my Husqvarna 125B leaf blower from a mail order Husqvarna authorized dealer. The product arrived in a factory sealed retail display box. I fueled it up and it started within a few pulls. It idled perfectly but after a minute or two of warming up at idle speed the motor would not throttle up unless the choke was set to the partial choke position. In the no-choke position it would not rev up when the trigger was pressed. I recognized this as a typical carburetor adjustment issue. Fortunately, I also have the special tools needed to turn the adjustment screws. So after a bit of tweaking, the motor ran perfectly. Since that day I have used it on several occasions before writing this review and I am delighted with the machine. Buyers without 2 cycle repair knowledge would be better served to make their purchase from a local dealer should the product need initial adjustments.
For my uses this blower is fine. I used it for the first time yesterday to blow off construction saw dust and hemlock needles from my deck before I stained it. It is not as powerful as a backpack blower, nor is it advertised as such. I followed the instructions for starting it and they were perfect. It started easily after about five pulls of the cord.
This Leaf Blower has lived up to expectations. Not only is it light weight, it also is quiet beyond expectations!! Great product!!
The 125B is a powerful, lightweight and efficient leaf blower. It's easy to start and has variable speed control which is a great feature in "delicate" areas of your yard. It comes with two blower nozzles and enough oil for a gallon of gasoline. The "quick start" guide is easy to understand and use. I am totally delighted with this product and I'm glad I chose Husqvarna!
The Stihl crapped out even though it wasn't that old, so I replaced it with the Husqvarna. The Husqvarna does a very good job, is easy to handle and start. I hope that it lasts longer than the Stihl, in spite of my using Stihl oil and ethanol free gasoline. I also have a Makita four stroke blower which I like very much. I like not having to mix and purchase the two stroke oil. The Makita might actually be a bit easier to start but then the Husqvarna isn't broken in yet. They all seem to do a comparable job. At this point in time, longevity is going to be the issue for me.