20 Slot Watch Box Leather Display Case Organizer Top Glass Jewelry Storage Black Unbranded $19.99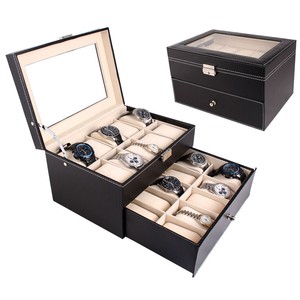 Buy This Item
ebay.com
Features
MPN: Does Not Apply
UPC: Does not apply
User reviews
This is a nice box overall. The only issue is the really cheap locking latch. A small child I believe could get past the lock mechanism. It's put on with bend over tabs instead of screws. I recommend a trip to your local hardware store and purchase a sturdy and reliable locking latch for 5 bucks would do the trick. The slots are ok.my 40mm watch just fits. A larger watch may not. The little pillow pads are a nice touch
I wanted a jewelry box for both our watches, but the inserts are too big for women's watches. To get around that, I used some foam pieces I already had that fit the spaces well. Just wish there was a variation on the band sizes. Otherwise, the quality is good in every other way.
I needed to organize my costume jewelry where I could readily see each piece as I have lots of pieces, and I do like the 2 tiers as well as the see-through top. I can store 3 pairs of earrings in each slot as well as 2 fashion watches. Outside is nice, looks like leather. The only reason I didn't give this display case 5 stars is that the closures seem flimsy; hence I plan to be extra careful in opening and closing. So far...so good. I've ordered larger ones with one tier, and this one sits on top of them....fits right in and makes my dresser top look so much better since it's finally organized.
Do you have a watch collection? Are they scattered out in drawers or just sitting around? This is an excellent way to organize your collection; as well as a great presentation piece. I highly recommend this item!
I had my watches displayed on a bracelet display, got tired of them constantly being dusty. I have bought watch storage boxes for all the men as Christmas presents. I thought - why not treat myself! Now the bracelets sit on the bracelet display (which I have fashioned a dust cove for and the watches have their own home. Very pleased with my purchase. I have been organizing everything from makeup to jewelry, I'm on a roll......