50 Pair 10 Tier Shoe Tower Rack Organizer Space Saving Shoe Rack Stainless Steel Unbranded $15.59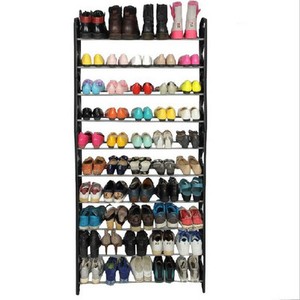 Buy This Item
ebay.com
Features
Material: Stainless Steel & Plastic
Features 1: Easy Assembly, Stackable and Durable
Color: Black
Features 2: Holds up to 50 pairs of shoes
MPN: Does Not Apply
Features 3: Multiple Shoe Configurations
Type: Shoe Rack
Dimensions: (60.62 x 38.19 x 7.48)" (L x W x H)
Type;: Shoe Rack
UPC: Does not apply
User reviews
Really easy to put together and durable. I have big feet, so I have big shoes. They're doing great and they look great. Makes it easier to finish my outfit in the morning. I just need to buy another one for the rest of my shoes.
Metal bars are sturdy enough. Hard plastic ends let you adjust height of foot wear being stored. It might store 50 pair of children's shoes ,but adult shoes and boots take up much more space. I expected to use it for adults and it works. I bought two racks separately. One end piece cracked severely and needs replacement.I sent messages and photos to seller and eBay reported message didn't go through the second time. I'm using the bottom eight tiers.
This shoe rack is VERY cheaply made. The bars are so thin if you barely push on them they bend down and the plastic sides are not made of hard plastic at all so it if not sturdy. It looked good by the pictures but they were not accurate. It was kinda hard to put together also with no direction and then the bars kept falling out as you try to put it together and they are so thin you must be careful not to bend them. Also the plastic sides are very wobbly and don't snap together easily or good either. This probably won't last me even a month before it is broken and not fixable
At first I was very happy with my purchase. It made my shoes and room look a lot neater and tidy. However a few days go by and I notice the sides started bending alittle. It came to the point that I've had to put this thing back together atleast 6 times because it kept falling and breaking. I even used hot glue to hold the rods in and the plastic sides and it still would break under the weight of the shoes. Don't waste your time or your money on this.
Very easy to put together but it is also very unstable and flimsy. The frame plastic and is in pieces that fit together with thin metal bars that hold the shoes. It was very cheap so I don't know.