Acer C720-2848 11.6″ LED Chromebook Intel Celeron Dual Core 1.4GHz 2GB 16GB SSD Acer $84.95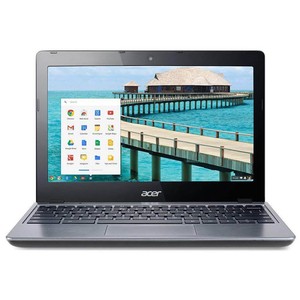 Buy This Item
ebay.com
Features
Memory: 2 GB
Color: Gray
Hardware Connectivity: HDMI, USB 2.0, USB 3.0, SD Card Slot
Type: Netbook
Most Suitable For: Casual Computing
Hard Drive Capacity: 16GB
Manufacturer Color: Granite Gray
Graphics Processing Type: Integrated/On-Board Graphics
Custom Bundle: No
MPN: NXSHEAA002
Modified Item: No
Storage Type: eMMC
Model: Acer Chromebook C720
SSD Capacity: 16GB
Operating System: Chrome OS
Product Type: Laptop
Operating System Edition: Not Applicable
Resolution: 1366x768
Screen Size: 11.6 in
RAM: 2GB
Processor Type: Intel Celeron
Internet Connectivity: WiFi
Processor Speed: 1.4 MHz
Product Line: Chromebook
UPC: 788619247428
EAN: 0887899315954
User reviews
Appears to be a good replacement for netbooks and tablets, even those tablets with a keyboard are not that great. LED displays are very thin for all small laptop style computers and therefore fragile and won't take much mishandling to break them. Chromebooks I have reviewed have screen resolution around 720p and the screen replacement cost between $50 and $100. Some laptop replacement screens are very expensive to replace, over $250. For most users, think of these as secondary computers due to limitations (do your research before buying, Youtube is a good source). Battery life is very good, but will vary depending on your usages and time. This unit is for low budgets and I do a fair amount of research and 2GB memory seems to satisfy my needs with lots of open tabs and two browsing windows. Touchpad has no left or right buttons. You use single finger tap or depression for left button and two finger depression for right button. Two fingers up/down or left/right for scrolling. Zoom in or out by top row button, though there is a way under beta to get two finger zoom in and out. Chromebooks utilize cloud storage, not local device and require a different mind set to get good use of the unit. My unit was used, no coupon for 2 years 100GB storage. Google charges $1.99 per month or less than $24 per year. For such a small screen, I find it very readable as a senior always needing glasses or contacts to view beyond 8". I am a tech and own multiple computers. Some for specific use and I use Windows 7 & 8.x, Linux and Android on a tablet.
My old laptop failed on me, too bad so sad i guess.... So i needed a new one of course, i knew 3 things: 1. I love google chrome and stuff related to it, its the only browser i use. 2. I needed a laptop that didn't cost a fortune. 3. I didn't want a crappy looking computer, something simple, yet elegant. So keeping these 3 conditions in mind i started scrolling through the list of products, and luckily my eye got caught on this Acer C720 Chromebook, i fell in love instantly! Though i looked for more options this very product stood out and seemed better in every single way possible! I wasn't wrong: This product is more than awesome! It's quick, looks nice, is a workhorse, has long battery time, boots up in less than 7 seconds, has fee apps (tho you might have trouble with getting skype, minecraft and some other stuff like that , it isnt a computer it's a chromebook), easily understandable icons on the keyboard (i couldn't ever memorize the F4, F6, F8 and stuff, so it's a problem solved with this laptop) amazing picture quality (at first i tought that the high quality picture was just some kind of a filter the seller was using, but no, im pretty picky when it comes to picture quality, and its better than anything!) and has a free VIRUS PROTECTION! So when it comes to buying a nev laptop.. i recomend buying Acer C720 Chromebook! Cheap, easy to use, light weight, silent keyboard, automatic updates, doesnt turn into a stove or an airplane motor when used for long, easy instructions, ect. ect. ect.
I like it very much. Very fast internet browsing. Very lightweight unit. I replaced the small SSHD with a large one and then installed a Linux based system. I can stay in native Chrome OS and enjoy the speed. Or, I can switch to the Linux system and have all the functions of a laptop. By the way, people who complain that the Chromebook does not run Windows should take a moment to read about what they are buying. If you want a Windows laptop or a PC, that's what you need to purchase.
Luv, Luv, Luv, this notebook. I've gone through buying and returning 2 laptop computers only to realize they are heavy, awkward, slippery and come with a million aps on them that I have no interest in. This chromebook is perfect. I can pick it up and carry it around with 1 hand. The battery life is unbelievably long and it starts up 2 seconds after I open the lid. It has built in antivirus, built in security, automatic updates, free aps, including similar to Word, Exel, Powerpoint programming, and more. My only problem so far is that I have a hp7520 wireless printer and cannot figure out how to use it with my chromebook. If there is a way, I will find it.
This is not like a regular laptop. This is a streaming device which offers plenty of options within the chrome operating system. My first impression was this is a lightweight netbook, how can it deliver the speed that was described on many websites? It does that and more. It is blazing fast. This is a great product. The bluetooth connection is strong and opening several pages at once does not slow it down. Buying on ebay has made purchasing this product easy. Check it out!