Acer C720 Google Chromebook Notebook Laptop 11.6-Inch LED 4GB RAM 16GB SSD Acer $84.95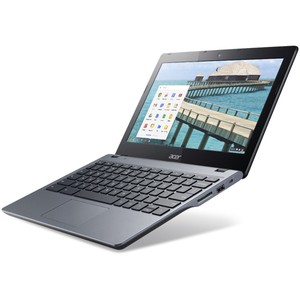 Buy This Item
ebay.com
Features
Type: Notebook/Laptop
Color: Silver
Product Type: Laptop
Model: Acer Chromebook C720
Resolution: 1366x768
MPN: Does Not Apply
Processor: Dual-Core
Operating System: Chrome OS
RAM: 4GB
Screen Size: 11.6in.
Product Line: Chromebook
Processor Type: Intel Celeron
Max. Resolution: 1366x768
Processor Speed: 1.4GHz
Monitor Screen Size: 11.6"
UPC: 793713779560
User reviews
The description uses the words "extremely minor signs of previous use" which is an exaggeration. There is missing pieces of the outer plastic, and definite signs of wear and tear (worn out plastic by touch pad, minor scratches). The speakers are adequate, but the sound does get fuzzy and is not in perfect working condition. Overall, I still think it's a bargain for the price, but the description is misleading.
Understand this is a refurbished product. It is functional but a lot of cosmetic flaws.....I will make use of it, but hopefully will last for awhile. Will think twice before the next purchase of a refurbish item!
this sucked never buy this
Used for college courses since I only had a desktop at home. Google Drive was amazing. With extensions I was able to do pretty sophisticated stuff, like combining and editing PDFs. I also used it to remote desktop into my work computer, which was super helpful in a few crunch scenarios.
I owned an Acer C720 years ago and unfortunately a rampaging elephant crushed it. Lately had a need for a lite-weight Linux laptop and since the Acer C720 is well known as a good Chromebook that runs Linux I looked for this one and bought it. A great deal for under $100! I especially like having 4GB mem which is rare now for a Chromebook. The extra RAM is great for running non-browser apps in Linux.