Acer Windows Mixed Reality Headset with Motion Controllers Acer $199.00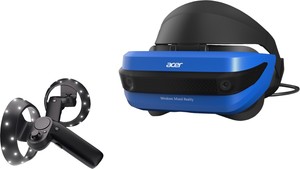 Buy This Item
ebay.com
Features
Non-Domestic Product: No
Modification Description: Comes with Ghostbuster VR
Sensors: Accelerometer, Gyroscope, IMU, Magnetometer
Refresh Rate: 90Hz
Modified Item: No
Features: Built-In Audio
MPN: VDR05AP002
Interface: HDMI, USB 3.0
Field of View: 100 Degrees
Model: QG7-00104
UPC: 0191114374870
EAN: 0191114374870
User reviews
The headset is great for people just getting into VR. The display is high resolution and the controls are responsive. There also is no additional hardware needed compared to the other VR setups, just plug in and go. If you play games with STEAM it will let you play many of the other VR games. And it's blue is aesthetically nice. One downside, while it's usable with glasses the edges blur at the outer edges. Also if your eyes or are slightly closer or farther apart than average (IPD) it may be a bit hard to focus since the lens do not move or adjust. Overall I like it.
This headset was used with GTX 1070 MaxQ and I7-8250H. Overall, this is a great headset. It's very lightweight and doesn't weigh down on you. The blue looks nice in my opinion. The display works well, and is nice and detailed. Could it be more detailed? Yes, but it's still good, especially at this price point. Tracking on the headset is fantastic. It always stays on point with your movements. The controllers are overall good too, but every now and then they get shaky for a moment or two. Setup was super easy, just plug in and press the pair button on the controllers. Content is very diverse, but is a little pricey too. If you have the PC to run mixed reality, get this. You won't regret it.
This headset is the best. I had to return the other two because they where not top quality for my critical evaluation. Only thing I would to see is builtin sound hearphones
Definitely worth it for the price, especially if you can find a deal. It does have a lot of issues, but overall it is perfect for low budget gaming!
If your looking for a good budget alternative to VR at half the cost this is the device for you. Just be sure to make sure your PC has the supported hardware