Alpine Swiss Hudson Shaving Kit Dopp Kit Overnight Toiletry Bag Travel Case New alpine swiss $8.99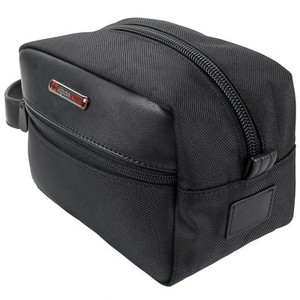 Buy This Item
ebay.com
Features
Color: Black
Style: Toiletry Bag
Material: 1200 Denier Ballistic
UPC: 817137063699
User reviews
It was father's day gift, they travel and one already used it said: It's very great and fits a lot!
Nice bag, great price, good quality, perfect size.
As a man grows up, he comes to need a dopp kit of his own, as opposed to sponging of of his elder brother, or worse, his mother, for his personal care supplies. This is a bag large enough to carry many different types of objects with room to spare. Here is a list of the items my bag currently contains: (1) Alcohol-Free Mouthwash 2 oz. (1) Roll-On Antiperspirant Deodorant 1.5 oz. (1) Shampoo and Body Wash 2oz (5) Shave Cream packets (1) Toothbrush (1) Twin Blade Razor (1) Generic Nail Clipper (1) Plastic Comb (4) Toothpaste 0.6 oz. (2) Cloth Washcloth white cotton (1) Soap case with large bar of soap (1) case of 36 Cotton Swabs (1) 6" comb (2) hairbrushes (1) can of sunblock (1) folding multitool (1) vial of pain reliever (1) sewing kit (1) body powder Yes, It's packed, but I don't want for anything. I defy anyone to find a better bargain at such a price. I've owned this item for over a year and am more satisfied each time I open it.
Quality made all the way around. Looking forward to many years of service. Looks good and right size for my needs.
My husband is insulin dependent diabetic. This bag is perfect for when we go away. It carries all his diabetic supplies and his papers that he charts his blood sugars on and what his dosages of insulin that he takes. Sturdy bag. He likes the fact that there is a pull tab at the opposite end of the bag..makes for easy closure. You can't go wrong with this bag. Great price!!!!