Anker Ultra High Capacity 20100mAh Portable Charger Power Bank with 4.8A Output Anker $49.99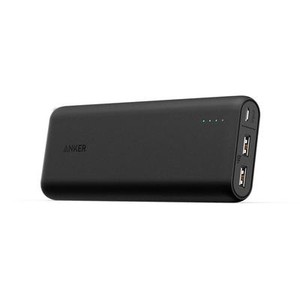 Buy This Item
ebay.com
Features
Non-Domestic Product: No
Connectivity: USB
Model: Universal
Power Capacity: 20000mAh
Number of Ports: 2
Compatible Model: Universal, For Samsung Galaxy Note5, For BlackBerry Z10, For Samsung Galaxy S6, For Samsung Galaxy S6 edge+, For Samsung Galaxy Note Edge, For Samsung Galaxy Note
Modified Item: No
Bundle Description: With Charger and Mesh Carrying Case
Wireless Charging Standard: Qi
Color: Black
Manufacturer Color: Black
Custom Bundle: No
MPN: A1271011
Compatible Brand: Universal, For Apple, For Samsung, For BlackBerry, For LG, For ASUS, For Amazon, For Acer, For HTC, For Blackphone, For Alcatel-Lucent, For BenQ, For Audiovox, For Garmin, For Sony Ericsson
Type: Power Bank
BOM_SKU: 1
Material: Plastic
UPC: 0641113647043
User reviews
I've tried so many power packs and the money I spent on power packs is ridiculous! My nephew bought one (his was bigger with 4 usb ports) and he praised how well it worked for he and his gf, that I just had to try. My job entails emergency evacuation and one day, I was assigned to do just that, and the power pack I had at the time, didn't help at all. Why? Well, because I hadn't used it and it was just sitting in my work bag, the battery packs power drained because I wasn't using it or charging it. So far, I've been testing this out by having it in my bag, (gummy charged) and not using it. The 4 dots had not gone down. Now testing it further, I charged my phone, (android) and my daughter's iPhone, as well as keeping it in my work bag without recharging it, and it still has the 4 dots. I'm totally convinced, that this charger is THE BEST OF EVER!! You will NOT be regretful or disappointed with the purchase of this power pack. 👍👍😎🤙
After a couple of uses, it is very easy to see why this is the top rated power bank in almost every review I have read. It will quickly and easily charge my Samsung Note 8 over and over. It is a bit heavy, but what do you expect with a battery/power bank that can do this much ? This was absolute life saver during our vacation. With all the walking around and using our phones for a map, this power bank kept both our phones charged up all day, and all night. This is where the 2 ports came in handy. Plugged it in before bed, and it was ready to go again when we woke up. Awesome product !
Was this a referb? It looks brand new- box and all. It came packed and accessories in a box that all looked brand new. We have used it to keep phones charged during kids all day baseball tournaments. It's a little big and heavy compared to my Galaxy S5 but it's a battery pack. I liked this model because my wife and I could both get multiple charges and at the same time with the 2 USB ports. Charging it back up will take some time so keep it on the full side and you can just grab it and go when you need it. If you have multiple devices to keep charged keep this one in mind. If you need to keep it with you in a pocket- maybe go with a smaller one. As for keeping it's charge, I've had it sit for almost a week without use with little or no loss in capacity- just top it off to be sure.
Had a power outage a few days ago, got me to buy this product and dam it has quite some juice, it charged my ipad mini 3 and iphone 6s multiple times no problem. Great product for travel and emergency! Pros: -20100 mAH Lots of battery juice -High Quality Material super Durable -Fast charging speeds -Includes a pouch (Thnxs) -Feels premium -LED indicator Cons: -Takes 10 Hours to recharge the powerbank from 0 - 100 -Quite heavy for its size (Around the weight of an original iPad) -Only has 2 USB ports Conclusion: All in all a great product, don't regret getting it. Recommend this to anyone who needs to survive through the day without losing connection on their phone, laptop or tablets.
Hi there i been using anker over the years the products are well made they last very long time i always like to have some power on the go there compatible with any type of phones,tables any usb device. I just order some power banks for some reason came defective and I get in contact with customers service I explain my problems and 3 days later they both replacement at no costs I definitely recommend this company to everyone thanks again. Best products on the market