Apple HomePod Space Gray MQHW2LL/A Digital Media Streamer Siri Apple $239.99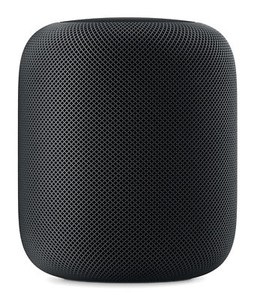 Buy This Item
ebay.com
Features
Media Streaming: Home Network Media, Internet TV/Video, Internet Radio
Color: Gray
MPN: MQHW2LLA
Media Input Connectivity: Wi-Fi, Bluetooth
UPC: 190198504524
EAN: 0019019850452
User reviews
Sounds great and does what I needed, which was to play my music and podcasts from an iPad mini. It would be nice if Apple opened up the ecosystem a bit. For example, it appears that Siri only works on Apple-bought Music; it can't find my other music even though I'm using their app. Also, I use the non-Apple podcast app iCatcher for my podcasts so Siri can't play those. No big deal, you just use Airplay. I downloaded a free internet radio app--Simple Radio--just to test if I could get around Apple's radio subscription. Worked fine, again using Airplay. But it's a lot for just a speaker without much use of Siri. The trouble is the Apple subscription is $99 a year for the rest of your life to use Siri on music, radio, podcasts etc but considering they also store a world of music for you, it's something to think about ...
Excellent product. I do wish it could be louder, but under most applications, it's loud enough. I'm surprised seeing other reviews that it had too much bass, but I haven't heard this, and if anything doesn't have enough bass. I do like that it multi-direction unlike its competition that is directional. other products, speakers you have to place them just right, but this you really don't since the speakers are 360.
If you're looking for a product that's smart and going to do everything in your home for you then you should probably keep looking but if you have the mindset of just purchasing an amazing quality speaker this is it. Then the few smart features it has are just a bonus rather than a let down when compared to its competitors. One area this smart home device does out perform the competition is having the ability to basically carry a conversation. When talking about a certain topic you can go back and forth with Siri not having to state what it is you're talking about each time unlike all the others out there. Overall very satisfied with my purchase and would highly recommend to a music lover like myself.
Small, beautifully designed, and great sound quality. Combined with an Apple Music subscription, this thing was the best solution for my kitchen. When I need whole-house audio, I use Airplay 2 to play the same music from my kitchen and my living room Apple TV home stereo setup.
I am very impressed with the HomePod, I have invested in Homekit, smart home components and use Apple Music as my prime source, so the HomePod integrates so well. Sound quality is fantastic. I couldn't be happier. Looking to put in a second one in the great room.