Apple iPad 2 16GB, Wi-Fi, 9.7in – Black (MC769LL/A) – Warranty Included Apple $64.99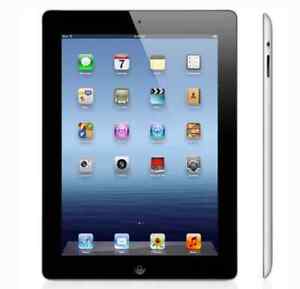 Buy This Item
ebay.com
Features
Processor: Dual Core
Model: Apple iPad 2
Resolution: 1920 x 1080, 1024 x 768
RAM: 4 GB
Operating System: iOS
Storage Capacity: 16 GB
Manufacturer Color: Black
Features: Text-to-Speech Function, Bluetooth, Touch Screen
Contract: Without Contract
Color: Black
Internet Connectivity: Wi-Fi
Network: Not Applicable
Hardware Connectivity: Bluetooth
Screen Size: 9.7 in
MPN: MC769LLMC960LLA
Type: Tablet
UPC: 0885909457588
User reviews
The Good: Great Price The Bad: NOT NEW Apple Quality Has cosmetic bumps and bruises New screen and battery I spent a lot of time looking for a convenient way to google info in the bedroom while watching TV. I wanted to spend around a hundred bucks for a solution. I thought a new tablet to be the easy solution, but all of my research lead me to some really poor quality, slow, inconvenient new tablet solutions. one review that I read actually suggested getting a slightly older high quality product like an Apple i-Pad. It clicked in my mind. Why not? This I-Pad has been refurbished, I'm guessing the screen and battery replaced, HD wiped clean and fresh OS installed. The price was in line with what I wanted to spend, buy not demanding grade "A" cosmetic quality. Yes it used and has bumps and bruises. I coved them easily by buying a $13 hard case. I am very happy with this i-Pad; it has Apple quality, and performs exceptionally well.
I was excited to get such a great deal on this iPad. It supposedly worked great, but we haven't had great luck with it. It did look great (screen was in great shape, nothing looked scratched, dinged or damaged) and the battery life is great. However, when I open just about any ap it takes a while to open and get going. The other two iPads (refurbished & same generation) my daughters have do not do this. Also, I'll be in the middle of something and it will quit and go back to the home screen. This is very frustrating. As it was under $100 I feel like it's still a decent buy, but I am disappointed in the glitches.
The original iPad alone was a great experience, The iPad 2 is a giant step up. Critics calls it a "oversized itouch" but it actully the other way around. When I use an iPhone I find myself squinting with iPhone in front of my face. The iPad 2 have so many features, its so much faster than carrying a netbook or laptop. And it lives up to its hype for the long battery life. The fastest I drained the battery was 5 Hours Streaming HD Videos which is impressive and it last 15+ hours surfing Safari. The only downsize to it was the fact that I couldn't fully customized*, so it had to be jailbroken and that fully completed my satifaction. *Changing Font, Lock Screen, And Adding useful features.
Was pretty skeptical while ordering this but after your child destroys a brand new iPad Pro with one power slam, it's ok to take a step back. I am pleased with its performance so far and would recommend. Battery life fantastic. Screen, camera not the best but you can't complain about any "fine print". It is what it is. After buying a rugged case, I let my child slam dunk whatever and it is still breathing. Kudos!
My grandkids love the features and how easy it is to use.. ( ages 6 & 8 ). We have a cover coming to help protect unit. For the refurbished condition it acts and plays perfectly with no indications it was ever back to the factory. With the larger clear screen they both sit next to one another to watch and help on another depending on what app they are running. We have the Wi-Fi model and was fairly easy to do initial setup. The control buttons are easily used and even though we never looked up a manual for it the kids and I can access the volume and turn it off and on.. I have tweaked the screen setting for better battery life by turning down the bright intensity which for their apps is not really needed. I think for the bucks spent it was their most enjoyed Christmas gift.. They are right at home with it as both are all ready using school tablets and pads learning them at early stage. I would not hesitate to recommend this to anyone desiring Wi-Fi capability to use.. It has many more features on it than I can glow about as I am only used to desktops & recently dove into notebook.. LOL..