Apple iPad mini 2 16GB, Wi-Fi, 7.9in – Space Gray Apple $124.97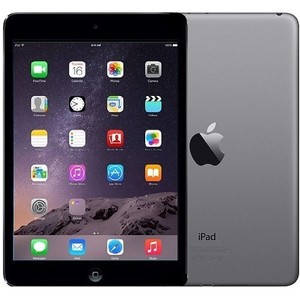 Buy This Item
ebay.com
Features
Internet Connectivity: Wi-Fi
Model: Apple iPad mini 2
MPN: ME276LLA
Storage Capacity: 16 GB
Color: Gray
RAM: 1GB
Network: Not Applicable
Processor Speed: 1.3GHz
Screen Size: 7.9 in
Contract: Not Applicable
Type: Tablet
Features: Backlight, Bluetooth, Built-In Front Camera, Built-In Rear Camera, Color Screen, Email
Processor: Dual Core
Country/Region of Manufacture: China
Resolution: 2048 x 1536
GB: 16GB
Operating System: iOS
Storage: 16GB
Manufacturer Color: Space Gray
Color/Finish: Space Gray
Hardware Connectivity: Bluetooth
UPC: 885909708239
User reviews
We bought this for my 84 years old mother-in-law as a Mother's Day gift. She loves it so much that she told us she wants to be buried with it. 🙂 She is still trying to get the hang of it and will never use all the features but it has made her life so much happier and is an easy way for her to keep in touch with her family members. The product has exceeded every expectation we had for it.
The apple ipad mini 2 is a wonderful tablet. My only complaint is the storage space management icloud is difficult and not so user friendly. The ios system is good and updates are great. This tablet is perfect for kids also. The size and weight is easy to manage. I am disabled and the original ipads are too heavy for me. I own several of these for my family and I and am so happy with them, will update to the 3 or 4 when pricing is better! This is my fave travel companion too! Even great to entertain the kids in the grocery cart!
I am an Apple person, with terrific experience purchasing on eBay. Have bought 2 iPod Touches (iPods Touch?) and an iPad and love them. This product is an in between the two, and it works for travelling -- reading, taking pictures, games for the grandkids, suduko for me, email, etc. I still like the computer best, but this product has its place. I don't see any big deal with "retina display." Not sure what that is. The pictures on my iPod and IPad are just as good -- the ones I take and the ones I transfer from my camera. Before decision I advise to go to an Apple store and check out the mini with and without this feature. Don't see any difference (and I am fussy). I understand Target sells one without it for $200. But it's a good product to have for a lot of reasons. Especially if you are out of the house frequently. You can't have too many toys. . . 🙂
Ok, lets just say it from the start. This is what the iPad Mini should have been last year. Or at least what i wanted it to be. The new Mini with Retina is by far a significant upgrade from the 1st model and i am not just talking about adding the Retina display. We moved up to the A7 chip with the M7 coprocessor. the new Mini has two WiFi antennas instead of one and MIMO technology. Where the 1st Gen was basically an iPad 2 that shrunk this one is in essence the new Air just smaller. Where before the iPad was behind the iPhone in now both the Air and Mini are standing with the iPhone. the only real difference now is the screen size. This years iPads are tough tho chose between because it really is a size difference. yes there seems the a slight better processors speed on the Air than the Mini and there are articles on how the color is not quite right. But to be honest these are things i can't seem to notice. The Mini for me is the best iPad. I prefer the smaller size. Its easy to hold great for reading and gets great battery life. its everything i want in a small tablet.
I was pleased that this product arrived exactly as described. The iPad mini 2 is the first tablet I have owned, but I did not feel like a novice with the intuitive features of the iPad mini 2. For those accustomed to Android devices, an iPad may be an adjustment, but it likely won't take long. Truthfully, this product is BETTER than advertised. You will not find a better performing tablet...period.