Apple MacBook Air 11.6″ Laptop Intel Core i5-4260U 1.4GHz 4GB 128GB SSD MD711LLB Apple $309.95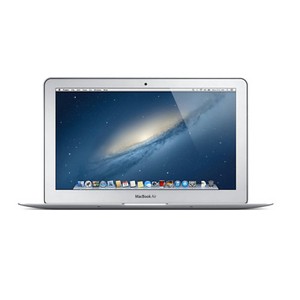 Buy This Item
ebay.com
Features
Hard Drive Capacity: 128GB
Release Year: 2014
Operating System: Mac OS X 10.9, Mavericks
Memory: 4GB
Storage Type: SSD (Solid State Drive)
Product Family: MacBook Air
GPU/Video Card: Intel HD Graphics 5000
Color: Silver
Product Type: Laptop
MPN: MD711LLB
Resolution: 1366x768
RAM: 4GB
Model: MacBook
Internet Connectivity: WiFi
Screen Size: 11.6in.
Product Line: MacBook
Processor Type: Intel Core i5 4th Gen.
Graphics Processing Type: Dedicated
Processor Speed: 1.40GHz
Monitor Screen Size: 11.6"
UPC: 754292156371
User reviews
I would say fast shipping and delivery, and looks great. I mean a few marks like 3 dents( one on front,side and side of bottom) but over all it is good. If you want something that is simple and for your first year of college laptop good for you. I would say tho it is a small laptop tho and I would really go for the 13inch which is a little bit bigger. But it is a small easy laptop. Overall I say yes get it's.
The computer is in surprising good shape considering it's refurbished, however the the piece connecting the screen and keyboard is very flimsy, and there are little scratches here and there. A very good surprise is that it came with a charger (to be honest it might have stated that it comes with a charger, I'm just a little stupid)
I wasn't expecting a perfect computer since it is used and for that price. They go for $899 brand new I paid half that. The performance is outstanding I can tell it has been inspected by specialists that is why i gave 5 stars. my computer came with Dings on all corners and small hardly visible marks on the screen and some wear and tear on the bottom. Overall im 90% satisfied. The batter life isnt good only becuase it is a 2014 version meaning whoever the previous owner was, they probably used it for the past 3 years which put some damage on the battery. Im planning on installing a new battery to make it Like-New. Especially since i plan on using this Laptop for the next 5+ years.
I bought this as an upgrade for a very old MacBook - how technology has advanced in a few years! It is so slim and light! Gorgeous display and easy to set up. I can literally just throw it in my bag and go. The battery life could be longer, but It's easy to find a plug and charge it back up. I have got a magic mouse for it and that also was literally 'plug and play.' I also got a plastic protective cover and keyboard skin, to protect it as I tote it around. All of these accessories can be found on ebay fairly inexpensively. I am very happy with this laptop and would recommend it to anyone who has to work on the go!
So, I'm writing this review on the laptop I bought, so... Anyway, it's great. I wanted this small size laptop and I wanted a Mac, but I didn't want to spend an entire paycheck on one. This one was very lightly used and came ready to load up and get going. I'll probably never buy a full-price new laptop again.