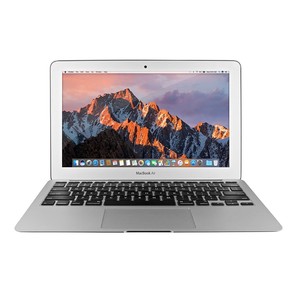 Buy This Item
ebay.com
Features
Storage: 128GB SSD
Release Year: 2015
Country/Region of Manufacture: China
Memory: 4GB
Operating System: Mac OS X 10.10, Yosemite or newer
Product Family: MacBook Air
Processor Speed: 1.6 GHz
Color: Silver
Hard Drive Capacity: 128 GB
MPN: MJVM2LLA
Storage Type: SSD (Solid State Drive)
Processor Type: Intel Core i5 5th Gen.
RAM memory: 4GB
Screen Size: 11"
UPC: 0888462341677
User reviews
MacBook was more than I expected . Thought there was gonna be lots of searched and dings. But there were very little minor scratches hardly noticeable especially if you put a hard cover on it. No dings what's so ever. It booted up very quickly. Super nice for the price no doubt. Couldn't be happier. Definitely a good buy. For those looking into investing a MacBook I would get one from these buyers. Shipping took 5 days. Packageing could have been better but other than that I love it!
The machine physically works great. Everything is fast and works as expected. It's the perfect size for portability. However, the case of the laptop was pretty banged up and the screen was scratched.
If you are considering anything for school or for working at home this is the computer to get. It is affordable and it's like new. You save around $600-$800 for this perfectly working Mac. I would consider this computer for especially work or schooling. Pros • Light Weight • Runs fast • Early 2015 - this will last years until you will have to buy another computer or upgrade • Rarely buffers • Like New •comes with power chord •$320 cheap - usually MacBooks are around $900 - $1300 •works like the brand new model Cons • battery last around 6-8 hours depending what you are using it for • May have some scruffs - very minor
Although this is the entry model, I am very pleased with the MacBook Air. It Looks and feels great (like almost all Apple products) and has enough Memory and Power if you don't use it for a lot of Video cutting and don't want to have a lot of media on your local device.
I absolutely love Macbook computers, and wonder why anyone stays with PC, especially now that the same software used on PC's is available in the Mac version for about the same price. If you are sick and tired of all the trouble you are having with your PC in regard to conectivity, ease of use, just problems in general, it's probably time for you to get one of these. The transisiton isn't that difficult. After all, most PC software is a mimick of Apple software. Yeah, these cost a bit more, but they are worth it. They will give you years of trouble free service, and you won't need to update your virus protection, either. These computers are almost devoid, by the nature of their design, of computer problems caused by viruses, hacking, and other intrusions. I highly recommend this relatively low-priced version that is light, durable, and very friendly. I have never heard of anyone of normal intellect who was not entirely pleased with their purchase of one of these computers.