Apple MacBook Pro Retina Core i7 2.0GHz 8GB RAM 256GB SSD 15″ – ME293LL/A Apple $679.97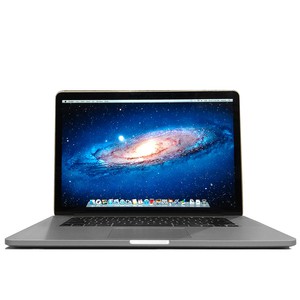 Buy This Item
ebay.com
Features
Screen Size: 15.4in.
Release Year: 2013
Processor Type: Intel Core i7
Memory: 8GB
Processor Speed: 2.0GHz
Product Family: MacBook Pro
Manufacturer Color: Silver
MPN: ME293LLA
Storage Type: SSD (Solid State Drive)
Hard Drive Capacity: 256GB
Model: ME293LL/A
Operating System: Mac OS X 10.9, Mavericks
Color: Silver
GB: 256GB
UPC: 0885909742639
EAN: 0885909742639
User reviews
I had no idea of how terrific this Macbook Pro really was. I had notice an explosive proliferation in this computer, so I suspected there really was something special about it, I had a MacPro for many years for editing movies and pictures. I grew to love the Apple ecosystem, and the fact that once you learn how to maneuver in the system, It is the way computing should have been all along. I had been a pc advocate, using different brands like Dell and H-P. When the Windows 10 OS came out it was the last straw. PC laptops I had been buying were so cheaply and shoddily designed that they were finally obsolescent. The Macbook Pro is ruggedly built, incredibly well designed, including the retina display that blows me away every day. It comes with the best OS on the planet. The battery is long lived and it recharges quickly. One major advantage is that this machine is usable as soon as you turn it on and login. Not like a pc that is rendered unusable at login or at some arbitrary point you choose to receive updates. The major items that made this a great buy for me are the following: Value from the Apple ecosystem. Value from the great design and rugged construction. Value from high quality audio system for streaming video, and enjoying music. Value from the brilliant retina display. Value from the lighted keyboard. Value from the well cared for computer by the original owner. Best value of all was the third party software already installed by the previous owner. The Microsoft Office for Mac 2011, and CS6 Photoshop, Aperture.
It's wonderful Apple MacPro retina, speed is superb and very convenient and easy to use. Editing and loading photos is 100% hazel free.
This is the entry level 15.4 size Mac Pro. For developers this is better than the 13.3 inc with dual core. If you plan to do lots of video editing, then you may need to up size the RAM to 16 vs 8. Also if you need more storage and RAM go with ME294 vs ME293. But for a developer this is the best value.
Until Thunderbolt ports are doubled up on EVERYthing, I think this is the last great Mac laptop... it's still has it's Firewire ports AND a Thunderbolt port AND 2 USBs, and separate sound in and out, AND a built-in CD/DVD reader/writer. Retina, for me, is not worth giving all that up for. Sure, time marches on, but we don't have to be manipulated to being in the very front of the line.
great computer fast easy to use but lacks a disc drive also does not come with Microsoft office which means additional cost. I would recommend the macbook pro but not the retina display one