Apple Pencil Stylus for Apple iPad Pro MK0C2AM/A – White Apple $87.00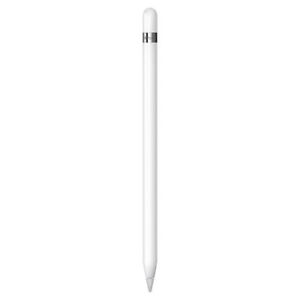 Buy This Item
ebay.com
Features
Non-Domestic Product: No
Type: Active
Model: Apple Pencil
Compatible Model: For Apple iPad 2, For Apple iPad Pro (1st Generation), For Apple iPad Pro (2nd Generation), For Apple iPad (6th Generation)
Modified Item: No
MPN: A1603
Color: White
Compatible Brand: For Apple
UPC: 888462313674
User reviews
The pencil is easy to sync and use. You can plug it in your charging port of your Ipad and you're synced and charging your pencil. It comes with an extra replacement tip. The pencil will not work if it's damaged. It's always a good to have an extra tip just case. I use my pad more than ever because of the pen. I'm a crocheter. I have patterns written in notebooks. I think it's great that I can just jot it down or just screenshot or save a pattern from Pinterest. It's has been a great way for me to go paperless and have my patterns on the go. I love the Notes Plus app. Parents, get your student an Ipad Pro, the pen and the Notes Plus app. It's a great way to record the professor in Notes Plus and write notes at the same time.
I never had an Apple Pencil before, and I am blown away! Condition is very good. There was a small stain on the side of pencil, but it was easily removed with my finger. When I plugged it into my iPad, (9.7 inch) it charged from 0% to 100% within 20 minutes. Immediately connected to Bluetooth on my iPad. Works wonderfully. Important Note: it does not include the female to female adapter, which is used for plugging the Apple Pencil to a charging cord. However, you can use the end of the Apple Pencil and plug it straight into your iPad for a fast charge. It also does not include the replacement tip for the Apple Pencil. But this should be fine because if you use the Apple Pencil with care, you will not need to replace the tip.
Very nice tool if you like to draw, do calligraphy, or jsut mark up documents on your iPad. It is nice that the tablet distinguishes the motions made by the Pencil versus touches with your fingers, and allows you to disregard the latter, which makes it easier not to make accidental markings.
Love the Apple Pencil. It does everything I expected it to and works great!
This is a truly awesome piece of technology! I was on the fence for a long time about getting a $90 stylus (I mean come on, it's a stylus) but I went against my judgment and boy am I so very pleasantly surprised!!! It just feels good in your hand and the best part is that it is SUPER responsive. I mean ridiculously responsive. All in all, worth every penny.