Apple Watch Series 3 42mm Space Gray Aluminum Black Sport Band MQL12LL/A Apple $229.00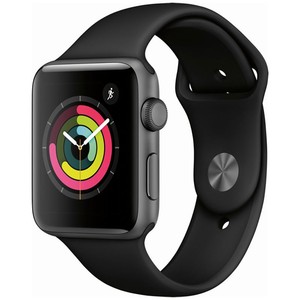 Buy This Item
ebay.com
Features
Band Material: Fluoroelastomer
Band Color: Black
Compatible Operating System: iOS - Apple
Case Material: Aluminum
Operating System: Apple Watch OS
Manufacturer Band Color: Black
MPN: MQL12LLA
Features: Altimeter, Accelerometer, Notifications, Gyroscope, Wireless Charging
UPC: 190198509598
User reviews
This is a great watch that that easy to set up, always stays connected to my iPhone's Bluetooth. Great variety of clock faces to choose from, tons of apps com already installed during the initial setup, love being able to set the lay out the other apps on the clock face via the phone app and have yet to get below 60% battery life at ththe end of my day . Love everything about this watch.
Skeptical at first about spending $300 for an iPhone accessory but after I trialed the watch I found features I really appreciated. In fact I started reaching for my phone less and here's why at a summary level: Good * Notifications I can check easier lifting my watch then grabbing my phone * Receive and respond to a text without disrupting a meeting * Quick check of weather calendar events without grabbing then unlocking phone * Siri speak allows you to keep eyes on task instead of looking at watch Bad * Weather apps takes sometimes 20-30 secs to update so you may not get accurate temp (took a Star off for this as I use the Weather app a lot) * Trying to figure out which apps or parts of app support Siri where with speak In short, I thought I would return my Apple Watch after a few weeks because I just wouldn't find a benefit and instead I decided to keep as it opened up other options for use that I didn't think of. You need to trial an Apple Watch to really see its benefit. I did trial an Apple Watch Series 1 as well but purchased Series 3 because I wanted the Siri speak so I could keep my eyes focused on task and if you get a good buy, cost difference with tax and shipping can be $70.
Great smart watch. It will get you in really good shape if you let it. The battery last 2 days on a charge. It is waterproof I swim with it and it tracks swimming laps that are customizable track lengths so you can adjust to your size pool. It is a great device to remote control your phone. Only bad thing is it needs recharging every other day but it replaced will my analog watch foverver.
I was skeptical at first but, it was worth the money. Came in the case looked brand new barely any scratches. Came with the band and the extra bands. Also came with the charger. Everything that was the box was there. Love the product thank you.
I owned the Apple series 1 watch for the pass year then switched to the series 3 . I found it responds faster than the series one I have less trouble connecting my air buds to it and the fact that it has the feature of water resistance he helped make my choice. I own several high end watches and I find myself wearing the Apple Watch more often.