BISSELL PowerLifter PowerBrush Upright Lightweight Carpet Cleaner | 1622 NEW! BISSELL $79.99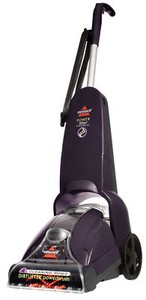 Buy This Item
ebay.com
Features
Features: Heated Cleaning, Rotating Brushes
MPN: 1622
Type: Upright
UPC: 011120007251
User reviews
I purchased this carpet shampooer to clean rugs in areas where my cats live. The shampooer is easy to operate and did an excellent job cleaning my carpets. I love the shampooer and I found the price exceeding reasonable.
easy to assemble. used an adapter for the 3 pin wall plug . worked for 3 seconds then burn't out . wrong voltage for australia. 120 volts doesnt work on 240 volts system. maybe should be sold to o/seas customers with voltage regulator. price is half what is being offered in australia. thats the reason for purchase.
I had my carpets cleaned about one week before getting this unit. I had to do some cleanup after dogs went on the carpet. Even the areas that the dogs did not hit I cleaned with this cleaner and it pulled up even more dirt than the professional cleaner did. So far so go with this cleaner
I have owned several other brands of carpet steam cleaner, and I am very pleased with the performance of this Bissell. I have multiple dogs and this cleaner easily removed the dog messes from my carpet. It is lightweight and easy to use.
This is my first carpet cleaner purchase so I don't have much to compare it to, but for the price I paid I am very satisfied. It cleans great and is easy to assemble for use. I got it to clean large area rugs and it did a great job.