BISSELL SpotClean ProHeat Portable Spot Carpet Cleaner | 2459 NEW! BISSELL $49.99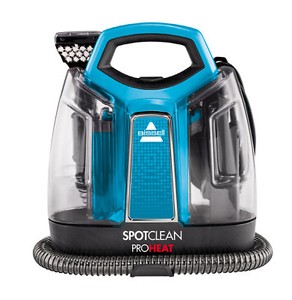 Buy This Item
ebay.com
Features
Model: 2459
MPN: 2459
UPC: 011120245455
User reviews
I live in an apartment that has carpet throughout. My pup had a UTI recently which lead to several accidents around the house. I kept smelling pee in my living room but I couldn't pinpoint the spot. I finally broke down and purchased this Spotbot and I must say I'm VERY PLEASED. My carpet is plush, smells wonderful, and it's pretty easy to use. I hate reading directions but they weren't hard at all. The trial size cleaners that cane me with this are wonderful. I'm excited this product really works
Awesome product! I need a carpet cleaner but did not want a giant carpet shampooer that I would have to fit in my apartment. This is perfect for pet spot treatment or when you spill something. Awesome value as well!
This is an awesome little cleaning machine!!! Very easy to use, clean up is easy and outside of not being battery operated, it's very portable. I would definitely recommend it for small clean up jobs, furniture, car seats, etc.
I have a long haired cat. She occasionally gets hair balls. The day after the cleaner arrived, I had to use it. Was easy to assemble, the instructions were very clear. It is compact, easy to store, and bring out to use. I am glad I purchased it.
We have a full size carpet cleaner but it's difficult to use on small clean ups. We have dogs and grandkids, lots of small spills! It works great, easy to use, light weight, easy to clean and store.