Breville BES870XL Barista Express Espresso Machine Breville $599.95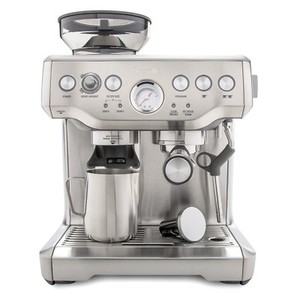 Buy This Item
ebay.com
Features
Pressure: 15 bar
MPN: BES860XL
Features: Built-In Grinder, Built-In Water Filter, Cord Storage, Cup Warming Surface, Display, Frother, Hot Water Tap, Programmable, Removable Drip Tray, Removable Water Tank, Steam Wand
Color: Silver
Material: Stainless Steel
Model: Barista Express
Type: Espresso Machine
Number of Cups: 8
UPC: Does not apply
User reviews
Great espresso machine steams milk quickly also with the adjustable burr grinder and dosing control easily and quickly grinds a perfect amount. Takes a little time to get set properly for the first time, not bad tho. Programmable brew temperature and draw volume allows you to brew the perfect amount of espresso every time. Once again takes a few times to get set perfect but it makes for repeatable quality of espresso shots. Steam wand switch is a little tricky to get used to it also takes about 15 seconds to heat up and start steaming. Not really a problem just not instant. Does have instant hot water for making a quick cup of tea which is nice. Really easy to clean the only thing that gets dirty really is the removable drip tray which rinses out easily. Great addition to our family's kitchen and our morning routine.
Fast brewing. Need a lot of finessing (grind size and amount) perfect the Brew for each types of bean. Once I learn to use it, I am sure it will make amazing coffee.
Very easy to make coffee shop quality latte at home. Unless you have to make 3-4 latte at once , highly recommend this model. This is the best one for home cafe ! FYI. I have jura espresso machine too , that is very easy to brew but hard to keep it clean and average espresso taste. But breville is different. Way better taste and easy to clean. But u have to practice first few days or weeks !
Worth every penny! Only regret is that I didn't buy it sooner. Really easy to understand, quick brew, with still an excellent crema. Fist day was drinking a latte while working on the pottery wheel. I would highly recommend.
This is the first "real" espresso machine I have owned and so far, I am very pleased with how quickly it heats and dispenses a shot of espresso. I still use the double walled baskets because I have not quite gotten down the proper grind and tamp but, because they work so well, I am in no hurry to master that. If I have any complaint, it is that the machine is a little difficult to fill with water. The machine fits under the upper cabinets well but must be slid out to remove the water canister. As the machine is fairly heavy, and the feet rubber fairly sticky, it can be a challenge to pull out and slide back. It would be nice if there were provisions to plumb in a water line, but really, overall this is a minor issue.