Call of Duty: Black Ops 4 – PlayStation 4 Activision $0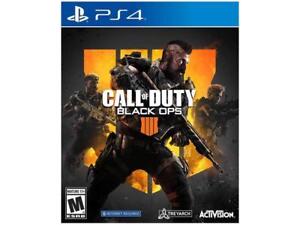 $59.99

Buy This Item
ebay.com
Features
Platform: Sony PlayStation 4
Manufacturer: Activision
Release Year: 2018
Model: 88225
Genre: Shooter
MPN: 88225
Publisher: Activision
UPC: 0047875882256
User reviews
It's been working well since I first played it. The graphics are excellent, there's no delayed glitches on the buildings online and purchasing this game saved me money. The only thing I gotta worry about is renewing my Playstation Plus, but other than that, the game is great. I did recieve it a couple of says early or so, but that just shows that I can count on ebay to get the job done.
Excellent graphics excellent artwork but I was really surprised to see how brutal the game can be I took it away from my 12 year old grandson but the adults love it without a doubt it kept everybody excited and focused. So beware of the bear great game for the adult in my opinion thank you.
Pros: Weapons are sweet and are work well Game play can be very fast even though its grounded Maps are pretty good Specialists are great Sniping feels great Cons: The spawns are sketchy at best. People will spawn behind you even when your team has control over that section of the map. Graphics arent amazing. The frame rate is a little inconsistent as well Some weapons have ridiculous range Could be just my internet but trying to get away from people is very difficult
Amazing game I had it on ps3 and it eas a good game but the ps4 version is amazing lots of improvement I recommend trying it out
My son loves this game he can't stop playing it he especially loves the director mode... love it.