Canon 1300D / Rebel T6 DSLR Camera + 18-55mm 3 Lens Kit + 16GB Top Value Bundle Canon $384.99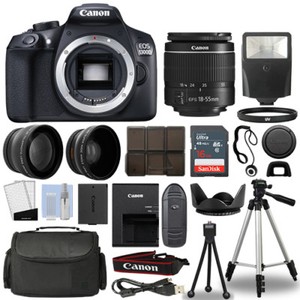 Buy This Item
ebay.com
Features
Series: Canon EOS Rebel
MPN: CA1300DK63-1160C017
Model: 1300D
Type: Digital SLR
Sellers warranty: 30 Days
Features: 1080p HD Video Recording
Version: Import
Bundled Items: Flash, Lens, Lens Cleaning Kit, Lens Filter, Memory Card, Memory Reader, Tripod, Case/Bag
Note: Canon EOS 1300D is known as Canon EOS Rebel T6
Manufacturer Warranty: No
UPC: 742880768488
User reviews
This camera is great and easy to use. I don't know much about cameras and the three auto focus settings let me still have options when using it. My daughter knows a lot about cameras and she was able to use all the different settings to take some great shots. This bundle came with so much stuff and I'm really glad I jumped on it because now looking at lenses and whatnot I realize I got the whole bundle for less than the price of one lens. I'm happy.
Took a minute to get it set right, but the image quality is great, and lens options help make it even better. I'd recommend this for anyone that is not a professional photographer, but is more than just a part time picture taker. Works very well
I was very skeptical about the truth of this package since it includes so many pieces at such a fabulous price. I was pleasantly surprised. If you are having doubts like I did, rest easy. Everything that is listed in the description is truly included and works wonderfully. I was slightly disappointed with the sturdiness of the large tripod but not overly much. I truly love this camera and am looking forward to taking more pictures. If anyone is starting out on the photography adventure, this bundle includes just about all of the hardware that you need to start out. I was extremely pleased and recommend it to anyone and everyone.
I've been wanting one of these cameras for over 10 years. I finally got one and I'm so glad I did! I've watched so many youtube videos so I could learn how to properly use it. The pictures it takes are spectacular.
The camera is not easy to use because it has so many features it will take a long time to get handy with all of them. That is not a bad thing. You can set it on auto and just go ahead and make good pictures, but learning all the functions will take time.