Canon EOS M50 Mirrorless Digital Camera with 15-45mm EF-M IS STM Lens Black Canon $519.99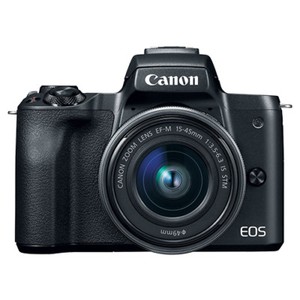 Buy This Item
ebay.com
Features
Video Recording: 4K
Model: M50
Manufacturer Warranty: No
Type: Mirrorless Interchangeable Lens
Bluetooth: Yes
Color: Black
Version: Import
MPN: 2680C011
Series: Canon EOS
Megapixels: 24.1MP
Features: Built-in Flash, Touch Screen, Wi-Fi Ready
UPC: 013803301229
User reviews
Better than previous "M" series cameras. Digital through the lens viewing along with LCD panel on back makes this superior to M1 and M3 cameras that must rely on LCD during daylight shooting. The side grip is improved to allow you to hold onto the camera without an attachment. I have liked the M series as a small alternative to the bulkier EOS SLR bodies but the lack of grip made it necessary to add an auxiliary grip or pistal grip. I wish Canon would add an external shutter trigger port and the camera would have all the feature plus equal image quality to Canon EOS SLR models.
I've used many Canon cams and this one far surpasses the ease of use of most of them. That and the fact that the images are truly amazing makes this a great buy for me. I highly recommend it. It's size just makes it that much more a pleasure to handle.
The is one of the best small budget type cameras you can buy. Even the pros that thought it would be a toy are now singing it's praises. This camera can do most pro shots almost as good as a camera that cost three times as much.
I love this camera, it is small and compact. It is a little slow to adjust the controls when shooting in manual mode, but I have gotten used to them. There is about a second delay when going from live view to EVF which make me shoot in live view more than I would like to. Overall, this is a great camera, i get useable images at 6400 ISO, which is exactly why i bought it.
Great pictures and features. Awesome video quality. I have bought two of the EF-M lenses and absolutely love what I'm getting. I wanted a more compact equipment I could haul everywhere with me and this is it.