Canon PowerShot G7 X Mark II 20.1MP Digital Camera – Deal-Expo Starter Bundle Canon $504.52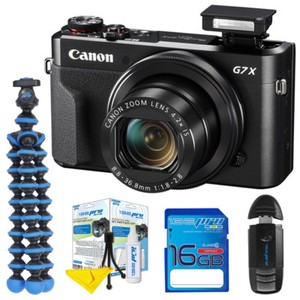 Buy This Item
ebay.com
Features
Bundled Items: Lens Cleaning Kit
Model: Canon PowerShot G7 X Mark II
Manufacturer Warranty: Limited 1-Year Seller Warranty
Optical Zoom: 4.2x
Non-Domestic Product: Yes
MPN: 1066C001
Megapixels: 20.1MP
UPC: 4960751455305
User reviews
I have the Sony A5100, various Elphs and a Galaxy Note 8 and this camera knocks out all in terms of picture quality and video quality. Amazing optical stabilization and the tilting screen makes taking unique perspective shots super easy. Low light shots are awesome too! Only down side is shorter battery life than my Elphs but I always take spares. Lightweight and nice grip too. Bought a simple lens cover to go over the entire lens to protect while not in use.
The combination of a one inch sensor, a fast lens, and the Digic 7 processor make this a fantastic camera. It is very well built, and the battery life seems above average, so far. Im still in the checking it out phase, so well see. I really like the layout of the controls, except the shutter button. It's just in an awkward location, for me. This is a larger camera, so you will need big pockets. But the advantages are well worth the extra heft of carrying it around. Highly reccommend.
I have been looking at cameras for the last few months. I'm not a photographer, but I enjoy taking pictures for fun and wanted to improve the quality. I was considering getting a dslr, and almost purchased one but then the price skyrocketed so I put off buying it. During that time I started researching this camera and realized this is everything I need! It takes great pictures, and I would like to get into vlogging, so if I decide to I have that option with the flip up screen making it so much better. The size is perfect, and there are no settings that I have to learn how to use. I also appreciate that now I don't have to purchase multiple lenses either. I'm obsessed with this camera and I can't wait to use it in vacation!
Takes great pictures in any lighting situation. Has the right amount of manual controls. A little pricey for a point and shoot, but you get what you pay for. An excellent camera, would buy it again.
This is the first point and shoot that I have purchased and I am very impressed with the quality of the camera and the pictures/videos taken on it! All of the extra items that were included have worked really well, with the exception of the SD card. I was having trouble with the camera not accepting the card at random times, and therefore my pictures kept getting deleted. Upon bringing the camera to a Best Buy, I was told that the card was corrupt and that any more use could result in damage to my camera. I also purchased a strap to go around my neck, but the wrist strap works well. The wifi feature is fantastic, and the ability to move pictures onto my phone is very convenient. I can't wait to learn more and experiment with my new camera!