Casio GA100BW-1A Gent's G-Shock Alarm Black Resin Strap Dive Watch Casio $59.99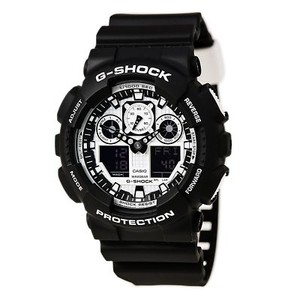 Buy This Item
ebay.com
Features
UPC: 079767031190
Case Material: Resin
Manufacturer Part Number: GA100BW-1A
Band Material: Resin
MPN: GA100BW-1A
Features: Alarm, World Timer
Manufacturer: Casio
Water Resistance: 200 meters
Gender: Mens
Movement: Quartz
User reviews
Exactly what I wanted. Its very comfortable and im a guy with big wrists. Still 2 slots left on the wristband. The watch came in a tin box with an operation booklet and a warranty card. The watch is badass but it is hard to see the digital numbers without direct light, similar to the old gameboys. The backlight is an actual light at the bottom of the watch under the face but above the digital template so it doesnt help much other than to read the analog hands in the dark. But so far ive had the watch about 1 month and it appears to be very durable. Im rough on watches and got sick of buying one every 6 months or so. I recommend this watch if you dont care too much for a subpar backlight.
The right size and color combination that meets my personal preference and taste. The shipment and handling starting the order to the time I got it was super fast and efficient, almost unbelievable. The wash is easy to operate and all operating modes are clear and handy, Thanks for all.
Thanks to give us very decent price for the watch. My son loves it!
Beautiful watch but unable to see the hands and the digital displays background too dark
Nice looking and functional Watch, only wish the Digital was Black digits with a white or gray background. It would be easier to see.