Casio Men's F91W-1 Classic Black Digital Resin Strap Watch Casio $9.95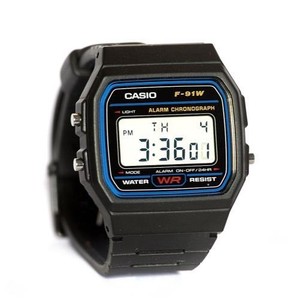 Buy This Item
ebay.com
Features
Band Material: Resin
Band Color: Black
Gender: Men's
Style: Casual
Case Size: 35mm
Case Finish: Matte
Face Color: Black
Dial Color: White
Age Group: Adult
Watch Shape: Square
Case Color: Black
Display: Digital
MPN: F91W1
Case Material: Resin
Movement: Quartz (Battery)
UPC: 079767246280
Features: Alarm
Manufacturer: Casio
User reviews
The backlight is not very good, hard to see the display in the dark. The watch loses about 4 to 5 seconds a month which is within specs. I would rather have it gain 20 secs a month, though, than lose 5 secs - don't make me late! I used my last Casio in the pool which was the Illuminator model, lost it and replaced with this, so I hope it also works in water without dying. Only paid nine bucks for it, so can't complain. Very comfortable and lightweight.
Inexpensive watch, my second one of the same type, first one broke due to my 3 year old grandson grabbing and pulling on it. This newest watch, the clasp broke after a week of use and I replaced the broken clasp with parts from my first watch. The first watch is still running with no battery change after 4 years of use. Down side, the back lite is very weak for viewing the time in the dark.
I have bought several of this model over the past 4 years. I tend to beat the heck out of watches, and for that reason, I do not invest in expensive watches. On one watch, the crystal fell off after about 18 months of use. I bought another one, but it would not keep very good time losing several minutes per day. I ended up transferring the guts of my old watch (kept excellent time) to the new case and used it for several more years. I just purchased another one, that keeps excellent time, losing about 1 second every few days. All said, I recommend this watch for all you folks who also beat the heck out of watches, but still want accurate time at a low price.
Mine arrived before the delivery date, which was awesome because I ordered this for work. It's alittle smaller than I expected, which is totally fine by me since I'm not too fond of giant watches. It's very very easy to adjust, I did it as soon as it was out of the box (which was perfectly packaged) and had it on by 2 minutes. My only concern is the light, there's only one tiny bulb at one side, there should be 2 on both sides so you can see the whole "dashboard"? Still love it and fully recommend!
💯 percent authentic, I have an 8" wrist and leaving me with 4 to 5 holes left to plug into, I would say that and 8 1/2 wrist would be max for this band, other than that you got to love the simple and retro look of the watch, they have not changed the design in 28 years and there is no need to, simple and comfortable and easy on the pocket, every watch collection should have one.