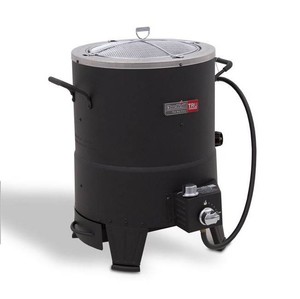 Buy This Item
ebay.com
Features
MPN: 14101480
UPC: 099143014807
User reviews
I used the Big Easy the first day it arrived. It was simple to assemble. I cooked two chickens on the optional rack with kabob holders, this is a must by. It has rib hooks and other hooks to hand meat in the wire basket. Watch as many YouTube videos that you can because it gives you a really good feel for how this works. Don't put on the lid unless it is really windy or cold, you will burn the skin of anything you cook. I cooked ribs, salmon, corn and potatoes the second time I used it. The food was perfect!!! I have a large CharBroil grill that sits next to the Big Easy and I doubt I will use it unless we cook hotdogs or burgers for a crowd. All the food comes out juicy and almost fat-free, Chicken skin is crispt and no fat under the skin, the ribs were juicy and tasted better than on my smoker. If you love to have great BBQ then this is the Fryer to buy!
It did exactly what it said it would. My turkey came out so moist and the skin had a nice crisp to it. The flavors stayed all through the turkey. It cooked in the time it said it would. I would recommend this product to anyone.
Found to be easy to use . Tried a chicken first. Was very pleased with the results.
It makes the job quick, easy and less expensive to get started and operate
Perfect and quick, undamaged upon receipt and easy to work with!