Cuisinart Artiste Collection 17 Piece Knife Block Set Cuisinart $56.09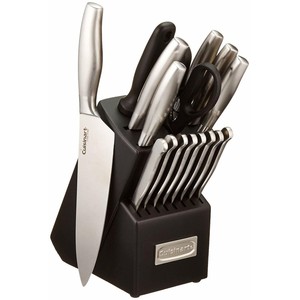 Buy This Item
ebay.com
Features
Paring Knife: 3.5
MPN: C77SS/17P
Bird's Beak Paring Knife: 2.75
UPC: 086279078247
Steak Knives: 4.5
Manufacturer: Cuisinart
Sharpening Steel: 8
Blade Material: Stainless Steel
Shears: All-Purpose Household
International Availability: No
Block: Yes
Color: Silver
Blades: Superior high carbon stainless steel
Type: Knife Sets
Handle: Ergonomically designed stainless steel
Chef Knife: 8
Easy to clean: Yes
Slicing Knife: 8
Warranty: Lifetime warranty
Santoku Knife: 5.5
PackageQuantity: 1
Serrated Utility Knife: 5.5
Publisher: Cuisinart
User reviews
Good Quality in a relatively Inexpensive Knife Set ! Includes most knives you need in an everyday kitchen but would not buy for a Pro Environment ! Blades are Sharp but need to be Sharpened if you're accustomed to really sharp knives. Steak knives are mediocre at best, mine seem to rust easily, tear meat rather than slice cleanly ! In Short, if you're looking for GOOD STEAK KNIVES I think you'll find you need to purchase them as extras & replace the ones which come in the set which is the reason for only 4 Stars ! LesB
The set is thinner, smaller and has a flimsy feel to it. Also, not very sharp. Had I seen it in person, I would not have purchase it.
This knife block set is pretty decent for the price, I noticed running them through the dishwasher put small rusty spots on them. But the 8 Steak Knives are the $$$ aspect of the block, great for common use, and stays crazy sharp! Overall owned for 1 yr now, and it's not bad at all!
I have waited for years to buy a new nice set of knifes, my last set was a wedding gift 29 years ago. I LOVE this knife set!!!!!! I wish I had, had the funds prior to this to buy this knife set. It is very sharp, fits the hand well, cleans up well and looks good in my kitchen. My best friend came over and she was all about where did you get these, how much were they... she thought they were sweet too.
The knives and accessories are easy to use, knives very sharp. The stainless finishes are without flaws or defects. The handle on all the items are made to fit into your hand easily.. . Care must be used as all of the knives are extremely sharp. Holder is attractive and matches our countertops. My wife is extremely happy with this purchase. I also would recommend this as an ideal gift item that would be welcome in any kitchen.