DEWALT DCD996B 20V 20 Volt Lithium Ion Brushless 1/2″ Hammer Drill New DCD995B DEWALT $81.99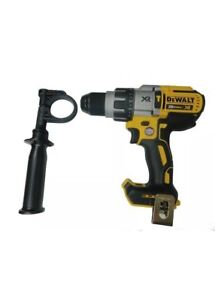 Buy This Item
ebay.com
Features
Non-Domestic Product: No
Motor Type: Brushless
Model: DCD996B
Type: Hammer Drill
Chuck Key: Without (keyless)
Modification Description: Tool Only
Voltage: 20 V
Battery Included: No (Body Only)
Battery Type: Li-Ion
Auxiliary Handle: With
Modified Item: No
Max. Torque: Hammer
MPN: DCD996B
Chuck Size: 1/2"
Country/Region of Manufacture: United States
UPC: 0043953790635
User reviews
This 2nd Generation Dewalt combi drill is a first class power tool, It will conquer any application you put in front of it the hammer drill is the most effective I've used at 38,000 bpm more than any other in its class it only has 95 Newton meters of torque but il tell you they've been very modest this drill easily walks with the big guns and can complete auger tasks faster than the milwaukee 2nd gen which has a supposed torque of 135 Newton metres it out performs it in 40mm self feed augers it's a monster slayer of a drill I highly recommend it for the professional contractor or home Dryer...
My reviews for DEWALT brushless tools is "NOT READY FOR RETAIL SALE", DEWALT should have held back from marketing these tools. I bought several brushless tools and the first time I used my 1/4" hex impact tool it burned up, smoking, almost caught fire. Maybe just a flaw in that 1 tool, not sure yet. Warranty will replace my tool....Just hope things get better. Just used my hammer drill, BROKEN straight out of box, no power, barely turns. The grinder requires an allen wrench to change discs and they did not make a place to hold allen wrench to tool (poor design) I had such great luck with my old 18 volt DEWALT power tools, I wish I had not REPLACED them. Unsure what to do now with almost $2000.00 worth of flex volt Battery tools. I also bought the string trimmer, hedge clippers and blower as well. I think I am stuck with these tools. WISH I HAD NEVER BOUGHT THESE DEWALT TOOLS. My hedge clippers were clearly marked as brushless on store tag (store tag made by DEWALT) tool was in fact not brushless, these shelf tags were in every Home Depot in the US. The DEWALT representative thought they were brushless, he had no clue. DEWALT no longer sells the great tools that made them the favorite for professional tradespeople, to bad, they had the market for years while other brands have caught up past DEWALT's new LOWER standards for quality. I did not mind paying a little more for quality, now the price is still higher than the competition but quality may be far less than other brands. I always told people to buy DEWALT if you want the best, this is no longer a valid statement.
Love my new hammer drill. This was such a great price. The drill made light work out of securing gazebo to my concrete bbq pit. Uses standard batteries. Super powerful drill. Perfect for drilling into concrete. Love it. Such a bargan.
The 20v dewalt is great. Bought to use on my ice auger and never run out of battery power all day.
I purchased this drill 2 years ago from Lowe's. I enjoyed this drill on the job it did me a good service. Being an electrician and wiring houses over the years, I use my drill pretty often. I'm am heavy-handed on my drills. It did not surprise me when my drill ,this exact model actually under its own power broke itself when I was drilling a hole and actually twisting me up and pinning me against the two-by-fours and actually itself as well and breaking . It's definitely very powerful, no doubt. I figured before that unexpected moment, it was working great. So I figured why not, a good drill and just the bare tool was readily affordable.