DuroMax 10000 Watt Hybrid Dual Fuel Portable Gas Propane Generator – RV Standby DuroMax $0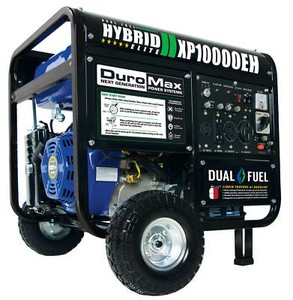 $1,499.00

Buy This Item
ebay.com
Features
Non-Domestic Product: No
Battery Included: Yes
Fuel Type: Dual Fuel
Tank Capacity: More Than 15 L
Battery Type: Rechargeable Alkaline
Modified Item: No
Generator Type: Portable
MPN: XP10000EH
Power Connector: 1x240 V
Type: Portable Power Generator
Model: XP10000EH
UPC: 811640013790
EAN: 0010100000008
User reviews
I bought this generator because of the sale price at 599, I finally got my load panel, power inlet and interlock installed and was able to test it for about an hour. Much to my surprise it was able to laboriously start my 2 ton ac unit, It did not like it and the lights got pretty brown then surged but after it was able to start it, there was still plenty of power left to run some other smaller loads. with the ac unit running I took some measurements. it was putting out 120 to 123v at each leg of the 110 and 63.8hz on the kill a watt p3 meter I used. The apc UPS I use on my internet equipment did not like this and kept trying to switch back and forth to ac and battery. delivery came by r+l carriers on a 48ft 18 wheeler with liftgate so if space to your home is limited to a full size semi you need to contact the seller before ordering. Unit did not come with oil, mine took just over 1 qt to reach full mark Starting the motor was easy and the pull start is about as hard to pull as a push mower, average of about 2 pulls cold or hot to get it to fire up. electric start worked out of the box no battery charging required The only problem I have is the high frequency playing with some sensitive devices ( stated in manual and on a sticker on the generator...) and another problem is that the unit "hunts" when it tries to idle down when on propane. the idle works great on gas though. Update: After 8 hrs of run time over 6 months, I do not recommend running a heavy load on just a small propane tank and am unsure about even running any loads from propane as there is no control for the fuel amount (see the above idle problem), after reading the reviews, all the ones mentioning destructive engine problems were running on LPG, it may be running lean and detonating the fuel damaging the motor. I was able to fix the output frequency but the adjustment reduced my max starting wattage, I have to undo that fix if I need to run the central ac. As far as the engine goes, if it goes out it looks like it can be replaced somewhat easily and the generating part of the system is near worth the 599 I paid. Just remember that for what this is it is going to be cheap and should not be used for mission critical backup power.
front plate damaged (two dents) during shipping...i guess. Called several times, left messages. Finally, after one month, they sent me the part which is solid BLACK no letters that say Hybrid xp10000EH. However, they did throw in a cover for the generator. The actually unit works well, it's just a pain to jump through hoops to get stuff done! I still am not happy with the part that I received...it's not what I purchased!
I have only used it with Propane and the instructions are abit conflicting, but I viewed several posts on You tube that made it all clear on how to start with Propane. The electric starter is awesome it started right up (much easier than the pull starter, which it has too). I will be getting an electrician to build the interface with my home electrical panel, so I will have power in the next outage. Assembly instructions were good, but not very explicit and you can make educated guesses on how it should go together. It is very heavy and the wheels/handles make it easy to maneuver. Would be nice if there was a Natural Gas conversion, but overall I am very satisfied.
It is very easy to assemble in spite of the directions as long as you have mechanical abilities. the reference photos are dark and you cannot see what they were referenced for. It called for plastic spacer washers in the handle assy. and there were none in the reference photo or in the hardware bag. the axle is end specific, and they should tell you to mount it accordingly or one wheel won't fit on one end. They should explain that to install the wheels, you should put on one washer, then the wheel, then the second washer and then the retaining pin. All that being said, it was easy for me to assemble it. I put oil and gasoline in it, hooked up the battery, put the key in and it and it was running in one second. Very nice.
You can't beat the price. $699.99 Get one before the price goes up. All of the generator prices are going up. The only other 10K generator that was priced at the same price went up by $200 a week ago. It's Hurricane season. This generator is one of the loudest generators I have ever owned. Even when the Idle control is on, it is quite loud. It says that it is 45 db. in Idle Control, but that is at 7 meters. That is almost 23 feet away. When the generator is in Idle Control Mode, that means that it isn't being used by anything electrical. It says that it is 72 db. with Idle Control off. That is also at 7 meters away. It sounds like it is over 100 db. when you are next to the unit. You can't even talk to someone at that high db. This wouldn't be allowed in any campsite or national park. When it is in the Idle Control Mode, it is slow to raise the idle. When I plugged in a radio, it would not raise the idle. I wouldn't recommend using any electronics in the Idle Control Mode. I think that this generator would be perfect for home back-up during storms, during a hurricane, or for construction. Make sure that you either build a shelter for the generator, or have it in a shed. It will need to be vented quite a bit because it puts off a lot of heat and fumes. I haven't used the propane gas on it so I can't speak about that, but I do know that propane can be stored longer than gasoline. DO NOT USE THIS INSIDE A HOME!!