DuroMax XP2000iS 2000 Watt Digital Inverter Gas Powered Portable Generator DuroMax $0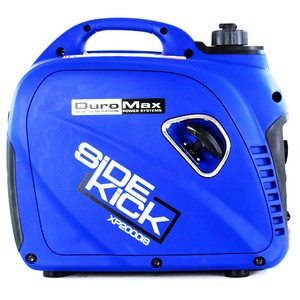 $624.00

Buy This Item
ebay.com
Features
Non-Domestic Product: No
Model: XP2000IS
Modified Item: No
Fuel Type: Gasoline
MPN: XP2000IS
Generator Type: Portable
Type: Inverter
UPC: 811640014148
User reviews
I've barely gotten three hours on the thing since I bought it, but it seems to be doing pretty well. I'm mostly using it to run a 13500 BTU air conditioner in a camper trailer, which draws 12.5A, so 1500 watts. It needs to have the "econ" switch off to power it, and it has coughed a couple of times, not providing enough juice to start the compressor, but mostly it's worked fine. Time will tell how it holds up and whether it will have further trouble starting the air con. It's pretty quiet; hard to compare to the Honda because I don't have one to compare, but it's amazingly quiet. Easy starting. I haven't used the 12vdc output yet, but plan to hook it up to charge the RV battery soon. Overall, I'm happy so far. Minus one star for having trouble starting up the air con compressor a couple of times.
Haven't used it much yet. I like the weight, pretty light. Also real quiet. I had a Generac 2000 before. It was larger and heavier but about the same in quietness. Most of your newer generators are rated at what their model number says like the generac 2000 has a 2000W output with a higher surge. The DuroMax although called a 2000, has only a 1600W output with a surge of 2000W. This is the older method of rating generators.
I ran these generators for 3 days while RVing in the Colorado mountains. They are really quiet and are easy to start. I ran them in parallel and ran them single.I used around 5 gallons of gas.They are not as quiet as my Honda 3000is but they are alot lighter and alot cheaper than Honda.The parallel adapter is really nice. It had 2 different plugs. 30 amp rv and 30 amp twist lock generator plug.They seem to be very well built.
I have had this generator for close to a year now. It has not let me down, and I will say it is ultra quiet. I don't know why some say it could be quieter. It is a bit difficult to start in cold weather, but that is my only complaint. I use ethanol free premium fuel only. The generator is a fraction of the cost of a Honda. It seems well built an runs strong and quite. No complaints here. I use it for testing vending machines at my storage unit. It powers the compressors of the drink machines with no problems.
I cant give it five stars I have not had it long enough and it could be a little quieter. Other then that I have no complaints. It starts every time and does exactly what it says it will do. It will deliver 1600 watts of clean electric and no more then that. I use it almost every day and if I have one item that has a large demand I shut every thing else off. For $349 delivered it was a great value. I saw it for $500 in other places. I had it right outside my bedroom and it was too noisy to be right on top of it. So I moved it to a spot 25ft away and I found it fine. I shut it off before I go to bed most of the time. But I have a few times filled it up at night, put it on economy mode, shut off what I dont need and woke up with it still running. Under full heavy load it lasts only 3 or 4 hrs hours. If it last for a few years with no problems, at that time I would add another star just for value purposes.