DuroMax XP4850EH Hybrid Portable Dual Fuel Propane / Gas Camping RV Generator DuroMax $0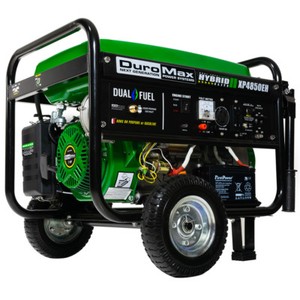 Buy This Item
ebay.com
Features
MPN: XP4850EH
AC Max Output: 4850W
Model: XP4850EH
UPC: 811640013783
User reviews
Lots of power in a small light package. Assembly took about 30 minutes and she fired up on propane without issue. The battery was fully charged and everything worked as described. As noted by a few other reviewers my unit had a bent wheel but no other damage. The unit was well packaged. I ran the unit for several hours on propane with varying loads up to 2000 watts. I then switched to gas and once again she fired right up and ran for two more hours under varying loads up to 2000 watts. The voltage remained rock solid during the four hours of break in running. Based on the loads I ran I will limit the total demand on the generator to 3000 watts maximum, which would keep my home warm and well-lit in an emergency. This is not a heavy duty thousand dollar generator, but I believe it will get the job done. In conclusion, I found the generator to be a good value and I would buy another.
I do like the duel fuel feature! If you buy one of these generators get ready to be creative & you must have a little assembly smarts to assemble this generator. The instructions are vague but I got it done by just looking at the pic & finding bolt holes. On mine, my electric start does not work but I'm still looking to see if all the parts were sent. On the propane fuel, I do love this feature plus just one pull on the rope starts this generator. Haven't actually used this generator yet but I figure I'll like it overall. The price was gr8 & fairly quiet!
My 4850 arrived arrived in seemingly good condition, but when I went to pull the recoil, the engine wouldn't turn over because there was a dent in bottom of the recoil cover which prevented the recoil from making a full revolution. With no scratches or marks, I'm sure the kink happened in shipping while inside the box. I was just happy it was that and not a cylinder problem. I removed the recoil, turned the motor over by hand and then started the motor with electric start. By straightening the cover I repaired two problems with one fix, because the electric start was not able to turn the engine over either. It started right up, had a little piston clatter for a few seconds and then sounded good. I plugged in a shop vac and the governor kicked in a little and it powered the vac just fine. The engine seems to flutter a little bit when running without a load on it, but sounds fine when there is a load on it. I only plan to run it on propane, to keep the carb from gumming up while sitting extended intervals.
I live in central California and only few miles from a major fault. I wanted a generator we could use in case a major interruption of electrical service due to an earthquake. I wanted a generator that was not too expensive but a known brand. A generator that could supply the emergency power I needed and would run on dual fuel, avoiding the problem of old gas and the storage of a volatile gas cans. This generation was exactly what i wanted.
First of all, I have only ran this unit on propane, and for only 1 hour tops in the 3 weeks that I've owned it. The only issue is that the engine has this slight cut out or miss. I have not tried to run it on gasoline yet because my primary intended fuel source would be propane, but I do plan to run it on gasoline in order to determine if the miss is only a propane fuel issue, or a carburetor issue in general. Either way I am sure the warranty will take care of any adjustments the engine will need to correct this. I will update later after I can do a more thorough evaluation with gasoline.