Dyson Cinetic Big Ball Animal Upright Vacuum | Refurbished Dyson $199.99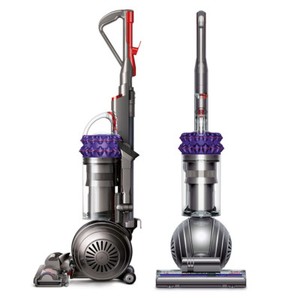 Buy This Item
ebay.com
Features
Dimensions (HxWxD): 43.3 x 13.4 x 17.2 inches
Features: Edge Cleaning
Dimensions (inches) (HxWxD): 43.3 x 13.4 x 17.2 inches
Type: Upright
Filters Other: HEPA
Filters: HEPA
Hygiene Filter: No prefilter, non-washable lifetime postmotor filter
MPN: 6502801
In the Box 1: Tangle-free Turbine tool
In the Box 2: Combination tool
Bagged/Bagless: Bagless
In the Box 3: Stair tool
Cord Type: Corded
Machine Height: 43.3in
Power: 180AW
Machine Length: 17.2in
Model: UP14 Cinetic Big Ball Animal
Machine Width: 13.4in
Box Weight: 11.68lbs
Maximum Reach: 50ft
Color: Purple 1
Warranty: 6 Month Dyson Official
UPC: 885609004259
EAN: 0885609000039
User reviews
Great performance, however it creaks in my hand when operating and almost feels like it will break. I suppose I'm just used to the solid feel of the NuTone central vac in my old home, or the ruggedness of an old school Kirby that Mom handed down. Everything is made of plastic these days, mostly for reducing production cost and weight. Dyson could really improve this product by beefing up the material. I don't care about a few ounces, I want it to perform and last. Beater bar shuts down quick when sucking up a rug corner, etc, which is a good feature. Love not dealing with nasty filters. No onboard storage for the tangle free turbine tool. Only other feature I would have really liked would be a retractable cord. -WDH, Basking Ridge NJ
In the past, I've had canister sweepers but decided to go with something new. I'd heard a lot about the kinetic big ball and purchased it. I am pleased with its performance on carpeted surfaces. However, I was disappointed to find that the big ball just seems to push dirt along, on hard surfaces like my tile kitchen floor and hardwood floors. I purchased two add'l attachments (the articulating head and a flat head) and this makes it bearable; however, I don't like sweeping with the hose that is needed when these heads are used. All in all, I am very disappointed and wish I had made another choice. Live and learn.......should have tried it first.
I've waited over 6 months to review this vacuum as I wanted a realistic test in our home over a prolonged period of time to give it an honest assessment. We've used everything from cheap $88 Eureka's to more expensive Hoovers and I wish I would have bought the Dyson a long time ago. Here's my take on it: First, you need to know that we have two dogs: a short-haired Border Collie and a long-haired Australian Shepherd. The Aussie's shedding has been the kiss of death to several vacuums (we bought three within a year's time). We also have a combination of tile, hardwood laminates, and brand new carpeting in our home. The Good: The marketing is true; this vacuum really does not loose suction power. Every other vacuum I've owned has decreasing suction over time and I've had a messy job of cleaning out the filters to get to the point where I can restore a fraction of the initial suction. The Dyson has as much suction 6 months later as it does when I took it out of the box, and I don't miss having to clean out dirty filters. It does a fantastic job of getting all the pet-hair out of my carpet and all the other places it accumulates in the house. If something does get lodged in the vacuum, it makes a hissing noise and it's obvious there's something stuck in there. Similarly, if something gets sucked up in the rotating carpet brush (i.e. a sock or curtain corner), the rotation automatically stops, thus eliminating the smell of burning rubber belts. The first time something got lodged in our Dyson, I couldn't figure out where the obstruction was and so I shot off a quick email to Dyson support. I got a response within 12 hours and they resolved my issue on the first point of contact. Additionally, the ball design and fairly thin sweeper head allows me to vacuum farther under the bed/couches/etc. than I could with a standard upright. Finally, the cord and hoses are quite long and I can vacuum most of 1700 sq. ft. from a single outlet. I can also leave the vacuum sitting at the bottom of the stairs and reach about 10 stairs up using the hose and wand tool. The Bad: Like all bag-less vacuums, the Dyson canister is dirty to dump out. It has a nice quick-release and dumping mechanism but I still have to reach up into the canister after most vacuums to pull out the pet hair. The vacuum is also a bit heavy. I don't mind it but my wife would not enjoy lugging it up and down the stairs. The furniture brush is novel (it has rotating brushes encased in plastic to keep them free from hair, string, etc.) but there is no place on the vacuum to store it. The only other minor issue that I have is that the manual is done in all pictures. I consider myself a visual learner but I still had to contact support when I had an issue as the pictures just didn't communicate everything they needed to. But then, how often does one refer to a vacuum manual? Overall, I'm super-pleased with our Dyson purchase and would purchase it again in a heartbeat. It's the only vacuum I've found that handles our pet hair without losing suction over time. Nice job Dyson!
I absolutely love my new dyson. I vacuumed my whole house with my old vacuum, they went over it again with the dyson, and the bin was almost all the way full after I already vacuumed it!!!!! I could not be happier with the decision to make this purchase!!! I go the animal one since I have a cat, and it picks up all of her hair its amazing, I think I might start vacuuming her, lol!
Vacuums siberian husky fur off our carpet reliably. Easy to empty. Fairly easy to maneuver except the ball occasionally prevents the vacuum from reaching under furniture. It would be nice if it were easier for me to go from floor-vacuum mode to wand-suctioning mode though; it's not just detaching the hose, attaching a brush, and then reach out to vacuum but rather a detach the hose, extend or remove the firm plastic covering, attach the brush, unwind the hose as you reach to vacuum a surface, and then beginning cleaning.