Dyson Small Ball Multi Floor Upright Vacuum | Yellow | Refurbished Dyson $169.99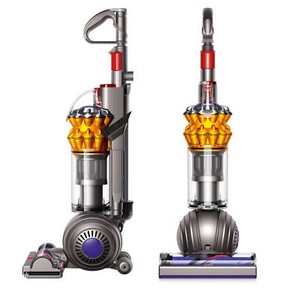 Buy This Item
ebay.com
Features
Color: Yellow
Type: Upright
Filters Other: Cyclone
Bagged/Bagless: Bagless
In the Box 1: Combination tool
MPN: 213545-01
In the Box 2: Stair tool
Filters: Washable
Machine Height: 31.77 in
Cord Type: Corded
Machine Length: 14.13 in
Features: Height Adjustment, Rotating Brushes, Self Propelled, Telescopic Handle
Machine Width: 11.02 in
Model: Dyson UP15 Multifloor Upright
Maximum Reach: 33.4 ft
Box Weight: 15.76 lbs
Warranty: 6 Month Dyson Official
UPC: 885609011400
ISBN: Does not apply
EAN: Does not apply
User reviews
Just received my Dyson vacuum... So easy to put together .... just used it runs like a dream... thank you eBay I love it.. I buy a lot of my products from eBay it's the best!!!Thanks
Recieved product within 3 days! Opened product and had a dirty appearance, like it was used.. not refurbished. Proceeded to assemble and test. Attempted to vacuum an area rug and was perhaps the worst suction power ever. Made sure everything was connected and still had same results. Instant return requested.
The only downside so far discovered is the difficulty in using the hand tools. The wand is quite small and becomes clogged occasionally. The design of the handle/wand assembly is tricky to use, causing my wife a bit of frustration when converting from floor vacuum to wand/tools and back again.
I used my sweeper I had for years one last time to clean up, then plugged in this dyson small ball upright, the dirt I picked up was insane!!! I thought I cleaned up pretty good but this vacuum made my old one look like I was just moving dirt around! Lol! The power this little vacuum packs is sure worth the money spent!! Plus a 5 year warranty...Unsurpassed!!!!
My first dyson and its very small much smaller than i expected. It works pretty good. Seems expensive for the size. I would say the cords stiff and the bin fills quickly.