Dyson V8 Absolute Total Clean HEPA Cordless Vacuum | Blue | Refurbished Dyson $289.99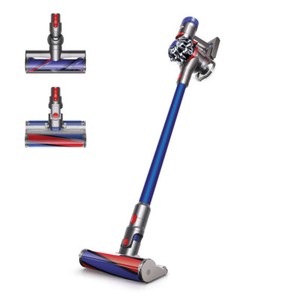 Buy This Item
ebay.com
Features
Type: Stick
In the Box 3: Mini Motorized Head
In the Box 4: Combination Tool
Bagged/Bagless: Bagless
In the Box 5: Crevice Tool
MPN: 214730-01
In the Box 6: Mini Soft Dusting Brush
Filters: Washable
In the Box 7: Mattress Tool
Cord Type: Cordless
In the Box 8: Docking station
Box Weight: 12.1lbs
In the Box 9: Tool Bag
Color: Blue
Machine Height: 8.26in
Dimensions (inches) (HxWxD): 8.26 x 9.84 x 48.97 inches
Machine Length: 48.97in
Filters Other: Bagless
Machine Width: 9.84in
In the Box 1: Direct-Drive Cleaner Head
Remote Control: No
In the Box 2: Soft Roller Cleaner Head
Warranty: 6 Month Dyson Official
UPC: 885609015538
User reviews
Dyson is a genius, his crazy-high-speed motor/vortex system was a breakthrough, and the less solidly built knockoff companies Dyson can't be bothered to sue for patent infringements. V10 said to be louder and may have a minor design flaw (read 95 reviews like I did); its advent, though, is knocking V8 prices way down. I got a *steal deal* on a looks-next-to-new, warranteed factory refurb AND got about $175 worth of extra accessories in the formerly Britain-sales-only "Total Clean" package that includes a nice attachments bag! Sure it's $$$, but you'll not only be free of cords forever but will feel like the Czar (or Czarina) Of All The Russias every time you use this marvel! Just clicking and unclicking the wand and attachments gives you a sense of being some kind of astronaut, the stuff works so well. Oh, and the majorly-improved power brushes, dust storage bin and emptying mechanism over the V7 means one pass over rugs or vinyl and no-mess disposal (that 3rd photo is of the pickup from one pass of about 15 feet along my carpet, grossly dirty due to interior workmen's messes). Ten stars!!
My vacuum never turned on. I plugged it in for charging for almost 2 days but when I tried to run it, it only produced a click sound and the lef light is solid red. I contacted Dyson warranty and they told me I needed a new battery, but then they said there was none in stock for them to send me a replacement so I'd have to wait but I have no idea for how long. And now I can't even return it due to Dyson's refurbished policy. This is ridiculous since Dyson claimed they fully tested the vaccum but then they sent me a dead vacuum.
Awesome, finally something light enough for the Mrs' to use,even my 11 yr old granddaughter loves using it,never thought I'd ever get her to clean. Thanks Dyson,finally got something that actually gets all the dust out of the living room furniture. Can't brag enough on it,our allergies have even seemed to calm down.....Highly recommend this product.....
This is our first Dyson product. I read lots of reviews before buying, and they were right, it's great! We have a dog that sheds constantly. Our house has lots of hard wood floors, a couple of rooms with carpet, and a few rugs, so we really needed something that would do well for all of these things. I bought The Absolute because it had the separate power head for hard floors. The small power head for sofas and chairs works great, as do all of the attachments. It made me a bit nervous to buy a refurbished unit, but it looks brand new and is working flawlessly. The warranty is only 6 months vs the standard 2 years, but I don't think it will be a problem.
I have only had this vac for a couple of weeks and have used it sparingly. I took a chance on a refurbished model and hope that I'm not disappointed. So far, I like the V8 just fine. Its light, quiet and the attachments are easy to use. Although its refurbished, it arrived in almost new condition. If it performs well over time, I think I'm going to be happy with my purchase.