Eau de LACOSTE L.12.12 BLANC PURE cologne 3.4 / 3.3 oz edt men NEW IN BOX Lacoste $31.59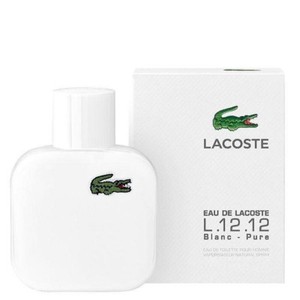 Buy This Item
ebay.com
Features
Global Trade Item Number: 00737052413174
Fragrance Type: Spray
Size: 3.4 oz / 100 ml
MPN: xlsImpprod3760047,
Fragrance Name: BLANC
Size Type: Regular
Formulation: Spray
Gender: Men
Type: Brand New in Box NOT A TESTER
UPC: 737052413174
User reviews
I've been wearing Acqua di Gio since the late 90s and wanted to branch out. A cute girl who works at the vet's office mentioned Lacoste Blanc and said she thought it'd smell good on me. I bought a bottle and it's great: fresh, light, clean, with a beautiful citrus-inspired scent. I found myself inhaling deeply all day and really happy with the way it held up: firm but not overpowering. A quick squirt on either side of my neck was all it took. Very nice fragrance and highly recommended. The price was less than 50% of retail, but everything looks, smells, and seems completely authentic. If this isn't the genuine article, I'd be surprised.
The reason why I brought this Lacoste Blanc, because I had brought one once from Sear's JC Penny's or Macy's and man when I sprayed it on everyone would ask what I had on. This smell great when I apply it on then it those not smell as strong! Now the price is much less then what I paid for at the department store
Amazing isn't even the word. It was a great item. Very high quality original Lacoste cologne. Came with factory packaging too. I recommend to anyone who's a big cologne fan especially Lacoste. Save some money man.
I bought this for my husband; I smelled it on someone else wearing it. I really enjoy the smell but it really doesn't last that long.. it is a very light fragrance which is good in some ways. Just wish it was long lasting.
Excellent Value compared to select stores. I use it all the time when I got to work or out with people. Get compliments when at work and they ask for the brand most of the time. Girls usually digs it."Smells like flowers' they said.