Fire Emblem: Warriors on Nintendo Switch ADXHB $28.99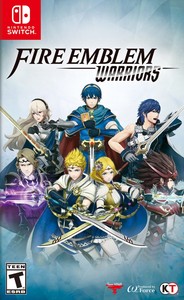 Buy This Item
ebay.com
Features
Platform: Nintendo Switch
Genre: Action/Adventure
Release Year: 2017
Game Name: Fire Emblem
Rating: T-Teen
UPC: 0045496591632
User reviews
If you enjoy the Fire Emblem series, you'll get a decent amount of enjoyment out of this game. It's very similar to the Dynasty Warrior games that come out pretty frequently, except with the newer cast of Fire Emblem characters. Most of the characters are from the last 2 3DS games, so if you enjoyed them, you'll enjoy seeing them again here. Each character is unique and voiced as you would expect them to. The game can get a little stale at times as you are basically doing the same thing over and over just on different maps, so to get around this I recommend playing in smaller chunks.
If you're a fan of musou games this will definitely scratch the itch. I enjoy how you can choose to micromanage your units or have a blanket A.I. to take over for you. On Lunatic mode you have to pay attention to the weapon weaknesses. I'd say it's a fun game to play of you want to blow off some steam or just relax a little by cutting through hordes of enemies.
Really good switch game! Honestly the only thing I didn't like in the game was the voices because they were a bit cheesy, however the gameplay is solid and definitely a great buy! Highly recommended!
Great fighting style mix between the two games. Really revived the dynasty warriors series and great co-op !
The game came in faster than expected and it runs like it was new. Little cosmetics damage to the box but everything else it fine