GermGuardian RAC4825 3-in-1 Air Purifier with True HEPA Filter and UVC, Refurb GermGuardian $64.99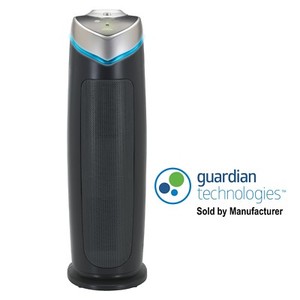 Buy This Item
ebay.com
Features
Model: RAC4825
Country/Region of Manufacture: China
Features: Anti-Virus Filter, Deodorizer, HEPA Filter
Energy Star: Compliant
Technology: HEPA
Color: Black
MPN: RAC4825
Location: All Rooms
UPC: 8 176 2401 034 2
User reviews
I purchased this unit to replace an aging other manufactures unit for which I could no longer get replacement filters. It was listed as refurbished but it came in original packaging. The instructions were a photocopy but otherwise everything looked brand new. The unit is very quiet on the low setting which is what I use most. I will use a higher speed if I need to freshen up the air due to cooking odors or smoke. I keep the UV light on constantly. It is situated in our living room and is more than adequate for the 14 x 28 ft area.
We purchased a manufacturer's refurbished unit and were very pleased. It's cost was reasonable, it runs very quiet (almost can't hear it on the low setting while it is right by our chairs), and it seems to be doing its job in cleaning the air. The replacement filters are also much cheaper than the other brands.
Very nice unit. Price was great and for being refurbished it looks brand new. Excellent shipping. I have this unit in a room where my cats litter boxes are. I just wish it would contain the dust from the litter better still see dust on my furniture. It is a very good Purifier, quiet and would definitely recommend it to family and friends.
Work real well, quiet operation and make the air in the room feel and smell clean. Even got rid of that old basement moldy smell that can occur. I even have found the HVAC filters on the ac& furnace are cleaner than ever before and the filter on this unit (my 2nd one now) catch almost everything and are easy to change. i order them for both units to last me for 6 months and get a much better price. I also feel the air is cleaner throughout the entire home overall. Also I find less allergies are noticed and fewer sick days for the whole family.
First - only negative - a little loud, but nothing too extreme.... Does a great job, filters are reasonable and available, it's nice looking and not too large. Amazing price on refurbished, $100 usual retail for new one still a great value.....Would/will recommend to anyone! I put one in all living areas and bedrooms......(5)