Google Home Mini Smart Assistant Speaker – Chalk Google $29.99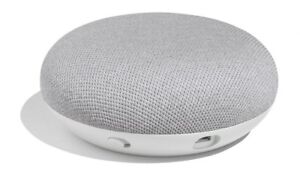 Buy This Item
ebay.com
Features
Manufacturer Color: Chalk
MPN: GA00210-US
Non-Domestic Product: No
Model: Google Home Mini
Color: Gray
Modified Item: No
Base Material: Fabric
Custom Bundle: No
Smart Assistant: Google Assistant
UPC: 842776101945
User reviews
Google Home -- they're all the same, other than the size of the speaker -- is a nice little gadget. NOTE: YOU HAVE TO HAVE WIFI TO USE IT!!! If you don't, it won't do you any good at all. It plays music with decent (no one would say "good") sound. This is especially good if you have Google Play Music or Pandora, in which case you can tell it exactly the music you want to hear, or the kind of music ("Hey Google, play Chicago II", or "Hey Google, play 70s slow dance music"). If you have Chrome TV, you can use voice commands to select programs on some channels, notably Netflix (no surprise, it doesn't work with Amazon Prime). It will give you the current time or temperature, or the forecast, or tell you what traffic will be like on your route to work. You can tell it items to add to your shopping list, and check the items off on your phone at the store, as you put them into the buggy. It will tell you bad jokes -- some so bad they're pretty good. 🙂 It will play trivia (and I think other games) with you. It will sit practically anywhere (we have it on a high shelf, where we can't really see it). It just needs to have its power cord plugged in, and be within hearing range. if you have more than one, you can network them together. The best use we've found for that so far is that we can send music from our phones to all of the units in the house, so we can listen as we go from room to room. I suspect there are other things -- maybe a way to use them as an intercom; it seems like that ought to be possible, but we haven't yet found a way. It's not going to change your life, but it's fun, and convenient to use, and has a couple of really nice features.
I would rate this item 5 stars if the Bluetooth feature worked reliably. Having Bluetooth that works is important to me it would allow me to improve the sound quality by playing music through my Bose speaker, however this function does not work properly and using it is a total disappointment. I went to Google's support site and found that there were many others that feel the same way about this problem and most complained that Google's support techs have not been able to fix it. As far as the rest of the features, they work fine and I am very pleased with them.
I have installed 7 of these throughout my home (counter top and ceiling mounted). I mainly use them to listen to music throughout the house as they can all be playing the same music at the same time. They are also just as easy to use as single room music if the rest of the family doesn't want to hear it. Much cheaper and easier to install and use than a whole house music system. They sound good, but obviously aren't large enough to provide extraordinary base. Besides the whole house music, the smart speakers' features are fun and occasionally convenient. I purchased a Bond and now have voice control over 6 of my ceiling fans/light fixtures after installing remote transmitters in each. I added a Nest Thermostat E and have remote and voice control over that as well. I already had a Chromecast on both TV's in the house and now have voice control over much of that content (pause, play, rewind so many seconds/minutes, stop, etc..).
Excellent gadget, better than I'd hoped for. You can't get Google Home devices officially in South Africa (due to our apparently bizarre accent AFAIK) so you can onoly get them via independent importers and then its prohibitively expensive. But I purchased and received these two (in Chalk and Charcoal) and they work brilliantly, I've even hooked them up to a few Sonoff switches and all works great. I'm still getting used to all the features but I already feel the extra convenience it adds to my day. Definitely recommend.
I bought 1 for my spouse for Christmas but loved it so much I wanted my own! I have one on every floor of my house now! It answers the thousands of questions my kids ask all day that I have no clue the answers about! The speaker for music is amazing!!! My favorite feature is it rings my phone until I find it when I missplace it! You can make calls with it too!!!