Hoover Cruise Cordless Pet Ultra-Light Stick Vacuum Cleaner BH52212 Hoover $79.99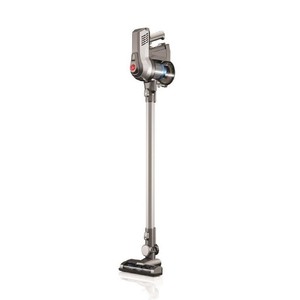 Buy This Item
ebay.com
Features
Non-Domestic Product: No
MPN: BH52210
Cord Type: Cordless
Country/Region of Manufacture: China
Brushroll Shutoff: Yes
Features: Battery Operated
Nozzle Width: 9 inches
Type: Stick
Motor Warranty: 2 years
Bagged/Bagless: Bagless
Product Weight: 4.7 pounds
Tools Included: Crevice Tool, Dusting Brush, Upholstery Tool
Filters: Washable
WARNING: Cancer and Reproductive Harm—www.P65Warnings.ca.gov
UPC: 073502043783
User reviews
The Good: Sucks like it should. Longer battery life (20-25mins easily) compared to much more expensive types similar to this. Brush bar can be turned off or on very easily at a push of a switch. Same brush bar is VERY easy to clean as it pops right out and back in again should you get strings/hair wrapped up in it. Attachment tools work easily and like they should. The Bad: Way too small of a dirt cup. Same dirt cup is a bit of a pain to empty properly. Almost have to take the assembly for dirt collection off every 3rd fill up or so, clean it well by taking it apart, putting it back together, rinse/repeat. This entails getting dusty yourself while cleaning it but not overly so. Just empty it over the garbage can and do the same while taking it completely apart. Overall: Even with the "Bad", this is so very worth it. Cordless convenience in a vacuum that is light, easy to use, sucks as it should without OVER-sucking (you know, eating all your area rugs and such). Sure the collection cup is a bit of a pain, but again, it's more than worth it. I gave up a Dyson and a Shark in favor of this Unit but keep in mind my house is only 1000 square foot. With a bigger home I would probably be tempted to get a corded vacuum for deep cleaning once a month or so.
Great little vac. We have a central vac we have used for 22 years. Went over the a area that was vacuumed with the central vac and picked a whole basket full of stuff. My wife loves it Take it outside and vacuumed the indoor/outdoor carpet on the patio. Very versatile and well made. Cheep at twice the price. Vender was great as well Shipped quick. Item was brand new in a brand new box. Would buy again
This handy vacuum is perfect for my wife as she attempts to maintain clean floors. It is specular on ceramic like floors and does well on throw rugs..Takes a few uses to fully understand just how to set it for floor type. A word to anyone considering this product on pile carpet - this vacuum WILL NOT perform at any degree of satisfaction except to gather the loose debris. Overall this vacuum is perfect for intended use of bare floors and throw rugs.
Does a nice job picking up dirt and small objects. I love that it's cordless and light weight takes up little space in closet. Works great on tile and wood floors on rugs I found I had to bend over to get a better angle for smoother operation. Handy to get those hard to reach spots and cleaning is very easy. Cons: Will not stand by itself and you need angle it more for smother operation on rugs.
There are a couple things I would change. Make the power head part with a lock or something so you could stop it from swiveling if you wanted to. I do like the swivel feature but not at all times like when doing stairs or something.. Also some sort of thin felt on the bottom of it would be nice. I do love the power on lock feature which I always wished my Dyson had. I also like that I can vacuum my thin throw rugs with this one where I couldn't with the Dyson. The Dyson would shut down when I would do that. Didn't work on rugs at all. I love this Hoover cordless stick vac way better than the Dyson and it is one third the price. Also has a two year warranty like the Dyson (which stopped working shortly after the warranty was over). My Dyson was a 500.00 cordless stick vac. This one cost me 120.00. Love it!