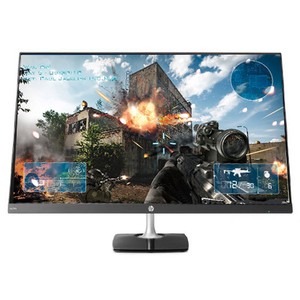 Buy This Item
ebay.com
Features
Max. Resolution: 1920x1080
Refresh Rate: 60Hz
Bundle Listing: No
MPN: 2MW70A6#ABA
Model: 2MW70A6#ABA
Video Inputs: HDMI, VGA
Contrast Ratio: 1000:1
Response Time: 5ms
Brightness: 250cd/m²
Aspect Ratio: 16:9
Screen Size: 27"
UPC: 191628792207
User reviews
Excellent product. If anything, almost too wide for my usage. I've now had three monitors attached as a second screen for my iMac. Of the three, this is the first whose's color has actually matched that of the iMac. It came with no instructions, but was very easy to figure out; at least if you've used and installed monitors before. I was able to mount it on a suspension arm, not using the included stand. It has the four screw holes for such mountings. Very happy with this product.
I bought these monitors because being edge to edge was one of my few features I was looking for when purchasing monitors for a triple screen sim Racing setup. While there is only a very slim physical bezel, the screen itself has one built into it, so the picture does not extend to the edge - you can see this in my picture. Very disappointed with this.
The monitor not only looks good but its sleek and has outstand picture quality. The reason for buying was because I look at alot of parts breakdowns and having the entire diagram visible to see how parts fit together is very important. This monitor is perfect for doing work on the desktop that requires having multiple windows open on the same screen. It's large, bright and has outstanding definition. The refresh rate is outstanding and great for streaming videos in HD. Only complaint is that the base does telescope up and down but doesn't pivot.
Colors are very vibrant, it powers on quickly and was super easy to assemble and setup. The screen tilts and telescopes up and down, which is a very nice feature.
I use this Screen in my home recording studio, needed a bigger screen and picked this one. And I mean it's really beautiful in colors, and I can't lie I watch movies on it too. LOL It's as thin as my cell phone, I love that, not a big back nor is it thick. I love the fact how easy it was to install the stand to it, not difficult at all.