HP Windows Mixed Reality Headset with Motion Controllers HP $299.00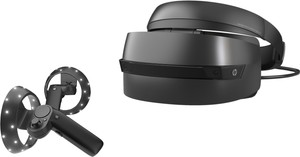 Buy This Item
ebay.com
Features
Field of View: 105 degree
Model: QG7-00107
Interface: HDMI, USB 3.0
MPN: QG7-00107
Features: Two high-resolution liquid crystal displays at 1440 x 1440
Refresh Rate: 90Hz
UPC: 191628635290
User reviews
Pros: -If you want to experience VR but don't have the money for the VIVE, this is a steal. -Decent graphics -Decent unique controllers -Portability is great -Gets the job done for what VR intends -I genuinely had a blast in FO4 and a few other games, blew my mom away. Cons: -Field of View is kinda bad, you can see a lot of black in your peripherals -Vision is blurry unless you look directly into the middle of the view -Fitting it onto my face for it to be "completely" comfortable was a chore -Controller touch pads were very touchy and takes a while to get used to -Last but not least, the tracking cameras.. You're kinda forced to keep your hands out in front of your body for the cameras to track your controllers which is sadly uncomfortable. You find yourself resting your ams at your sides and having the camera lose track of your hands right in the middle of something crucial (FO4).
The HP reality headset and controllers is as hot as my pimax headset and surprised me right from the word go Gaming will never be the same without it. for the price I paid it was a steal and all i can say is awsome
I got this on sale for $200, and for the price it is spectacular. The only thing I don't like about it is the way it fits onto my face sometimes makes the vision blurry. Really good vr headset for the price and will get you into many games.
This a really great technology that is growing in popularity everyday. There are great games and applications...some available for free!!