HyperX Cloud Revolver Gaming Headset RE-CERTIFIED HyperX $69.99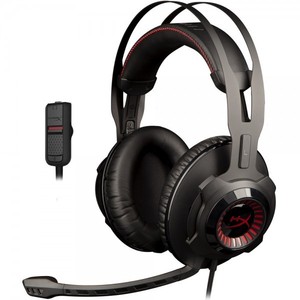 Buy This Item
ebay.com
Features
MPN: HX-HSCR-BKRC
UPC: 740617265446
User reviews
When I first got my headset, the left ear cup didn't work. I talked to their support team and they helped me out pretty quick! I sent them back and got another pair in no time. This pair works great and sounds good! They added on the rubber pieces you see on the revolver s version to minimize the "tuning fork" which is nice. If you are looking for this headset, or a headset in general, I would recommend getting it from here and save some money!
I have multiple problems with this item since I got it. It disconnects random. The chat can not hear my voice. I have to disconnect and reconnect to make it work. Bug mistake to buy it from refurbished. Over all when it works it works well. I say 4/10 time I use it I have some sort of problem. But it seems that disconnecting it and reconnecting it makes it works. It is not my devices I use my brothers head set and they never give me any problem.
The HyperX Cloud Revolver gaming headset is a bargain for your buck. At only around $50.00 USD, it offers high sound quality output from the headphones themselves. Alongside that, the microphone (can be unplugged) works well and has good quality sound and input. I definitely recommend the HyperX Cloud Revolver as a mid-range pair of day-to-day headphones!
I received my headset yesterday. I just got to work and plugged them in to a Yealink T29G VOIP telephone. I had to use a "Headset Buddy adapter 01-pc35-rj9z to get the headset to work on the phone. The headset quality is fantastic. I made some test calls and everyone says the mic audio sounds great. I am very pleased with the headset and would not hesitate to recommend to my co workers.
I purchased this headphone for CSGO. It is a comfortable headphone but still have some noise when I play the game. If you want to find some really nice mic then go to buy the new one.