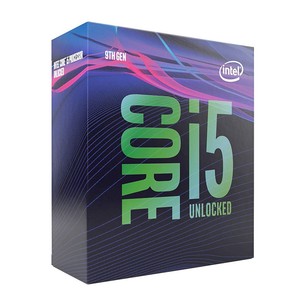 Buy This Item
ebay.com
Features
Processor Type: K6
Core Name: Coffee Lake
# of Cores: 6-Core
Clock Speed: 4.6 GHz
Operating Frequency: 3.7 GHz
MPN: BX80684I59600K
Max Turbo Frequency: 4.6 GHz
Processors Type: Desktop
Memory Types: DDR4
Series: Core i5 9th Gen
Memory Channel: 2
L3 Cache: 9MB
Socket Type: LGA 1151 (300 Series)
CPU Socket Type: LGA 1151 (300 Series)
UPC: 735858392488
User reviews
Great CPU, works well, just as eady to install as previous 8th gen intel. Overclocks to 5ghz pretty much instantly, you will need to increase voltage for stability for sure but this chip is really cool under load with any standard prefilled 50$ liquid coolers. Has overall same or better gaming performance than all other top CPUs in the world right now at a much friendlier price!
I had no changes using this after 6600k skylake. But when I tried Assasins creed bench, I went from 30 to 45 fps. It is sad that prices ju mped up so high. Skylake cost me 200 and this one was 260, but at least I was able to get it without tacks. If this goes on, this will be my last Intel CPU because the price of AMD cpu plus mobo goes about 30% cheaper on average for a very similar set.
it works great,and I love it,easy overclock,Great CPU for gaming
It's a great chip. Using it at 4.7ghz, it's a safe all-core overclock and I don't need a beefy cooler. 212evo does it.
Works well for all gaming purposes I've thrown at it so far. Would recommend