Jabra Elite 65t True Wireless Earbuds (Manufacturer Refurbished) Jabra $89.99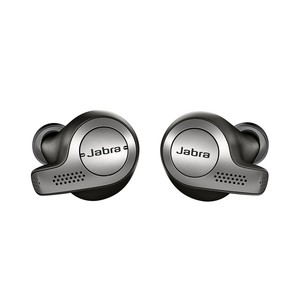 Buy This Item
ebay.com
Features
Charging Interface: Micro USB
MPN: 100-99000000-NRC
Handsfree Profile Support: Yes
Connectivity: Bluetooth
USB Charging: Yes
Wireless Technology: Bluetooth
Voice Guidance: Yes
Digital Signal Processing: Yes
Volume Buttons: Yes
Ear Cushion Type: Ear gels size M
A2DP for music playing: Yes
Usage: Mobile phone
Selectable Sound Preferences: Yes
Volume Control: Yes
Visual Indicator: Yes
Wearing Style: In the ear
Call Controls: Yes
Auto Connect: Yes
Voice Language: English
Battery Status Indicator: Indicator, Charge alert
Number Of Microphones: 4
Bluetooth version: 5.0
Bluetooth Status Indicator: Yes
Charge Time: 120m
UPC: 615822011570
User reviews
Fits comfortably, sound quality is great, microphone picks sound up well, and it lasts a long time on one charge. Really well designed case that charges earbuds when not in use makes these earbuds even easier to use. Can be used with one earbud in or with both. A con is that when using just one earbud, it has to be the right earbud which lacks the volume control (located on the left earbud). Also, if the right earbud runs out of power, you can't just swap in the left earbud and keep going while the right one charges because the left can only be used in conjunction with the right. Aside from this, though, this is a great, great product.
Piece of cake to establish a Bluetooth connection. Earbuds synced to my Samsung Galaxy 8 with in seconds. Sound is OK, very good volume as compared to my other set of earbuds. Quality of sound is just average though. Although I read reviews that raved about the sound, IMHO its not all that. Not bad, but definitely not Bose. My only complaint would be is; I wanted these for the battery life and to use during my running and workout sessions. The Battery Life is awesome. My average run is about 45 minutes, then I head to the gym for 2 1/2 to 3 hours. These are the first pair that last the entire time, with power to spare. Major Kudos in that dept. My only complaint is , when I began to sweat, the earbuds DO NOT STAY SECURE in my ears. several times they have fallen out in the middle of a set. I've tried several sizes of the ear gels that came in the box, but none have worked to keep the ear buds snug when working out. I had to find a work around in order to trust wearing them while running. I own two pairs of the Samsung Earbuds,( need two because of the poor battery life) The Samsung came with wings that slip over the shell of their earbuds to prevent slipping. Luckily these also fit the Jabra 65T. So now I'm use them to form a secure fit, enough to feel comfortable running with the Jabra 65T , with no fear of losing them on a trail. So bottom line, great battery life, great volume, ok sound, but use caution when wearing at the gym, or anyplace where you fear they'd get lost if becoming dislodged.
I went into buying into a brand of earbuds I had never heard of, but was seeing both 4 out of 5 stars on eBay and Amazon review wise and decided to bite and I'm glad I did. I picked up a pair of manufacture refurbished pair and haven't looked back! I wasn't expecting the sound quality to be beyond what I was expecting. They are as loud as any regular pair of ear buds that are wired and actually have very decent sounding treble and bass controls. The bass isn't punchy, but it's a very, nice and soft bass and it's more than enough bass to get by with. The battery life on these bad boys are rated to be around 6 hrs, but that's more than enough then what I need them for. These little ear buds also sit quite well in your ears. I haven't had issues with mine falling out and are quite comfy. The Bluetooth connectivity on these were also quite the surprise. I haven't measured exact distances, but I have tested them at my workplace which is a factory and there's a lot of things that could interfere with the Bluetooth connection, but I got somewhere around 20-25ft of good connection before they would drop out, but that's absurd amount of distance you would need because why would you not carry your phone or ipod around with you when you use these? On that note I did have 1 small issue with these. The issue is odd and deals with when putting the ear buds back in their charging case and then pulling them back out will sometimes cause the sound to stutter in and out rapidly. It does it randomly so it doesn't do it every time I pull them out of the charging case. The only fix I could find for it is telling my phone to forget the connection to them and then reconnecting them and the sound would be just fine after that. I don't know if I'm the only one having this issue or it's a manufacturing issue from when it was refurbished. That's the reason I docked 1 whole star from this review. That's literally the only complaint I have about these. Overall, I highly recommend the Jabra Elite 65t's!
The product is probably one of the best available in the market. The sound quality is great! The microphones on this pair of Bluetooth earbuds pick up the voice with clarity and ease. More importantly, both earbuds work when you are on the call! Unlike many other products, only one earbud works when making/receiving calls. Though they don't have active noise cancellation, but their passive noise isolation is pretty good. What is unique about this product is that you can even turn on pass through feature through the mobile app so that you can actually hear ambient sound through the speakers in the earbuds! The only downside I notice that is the mobile app sucks; I had to create a support ticket with Jabra to get it work. For the price I paid, I give two thumbs up.
I wanted a wireless set of buds but most I heard sounded weak and tinny. The Bose are over priced and stick out a lot. These have good bass, stay connected and have good battery life. For refubished I'm impressed and consider this a great bargain. Don't buy the Comfy tips. They don't fit and you can not put it in the charger with them.