Jabra Elite Active 65t True Wireless Sport Earbuds (Manufacturer Refurbished) Jabra $99.99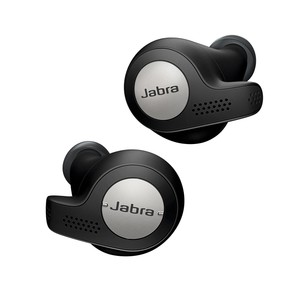 Buy This Item
ebay.com
Features
Wearing Style: In the ear
MPN: 100-99010002-NRC
Battery Status Indicator: Indicator, Charge alert
Connectivity: Bluetooth
Bluetooth version: 5.0
Wireless Technology: Bluetooth
Charge Time: 120m
Primary Usage Area: Sport and music
Voice Language: English
Usage: Mobile phone
IP Rating: IP55
UPC: 615822011662
User reviews
- It may be the problem of all earbud speakers but, the sound has limited depth. - The Jabbra 65t has superb connectivity with Bluetooth device and other earbud. No drop about it all. - They do fall out easily sometimes. I'm going to be looking for an earbud retainer so I don't lose one.
I purchased these in the hopes they would restore my confidence in wireless earbuds. Well while these do fit and that was one of the reasons I had used on ear wireless headphones up to this point the left ear bud in particular needs some major reworking while the volume and track search work fine my complaint is that both sides (left and right individual ear buds) have the capability of turning off the system the left ear bud is really not meant for this action. It takes far to much pressure to activate this feature on that ear bud, and in some cases it actually hurts to do so. It just puts to much pressure on the inner ear that is just not acceptable. The company also tauts them as not falling out or they will stay in better than most, well while they do stay in I did feel them slipping out several times and had to adjust as well as the sound quality dissipates when the seal is broken (the ear bud pulls out of the ear). Lastly I have had these connect and disconnect several times and my phone was less than 2 ft away! Not cool for a company that publicized these as being well one the best pair you could invest in. I have not given up on these but I am disappointed in the overall performance this far.
awesome Ear buds. the case opening mechanism is something to get use to, you pay for what you get in a good way here $$. Mine turned out to be fragile so i had to return them but would have kept them if that weren't the case. Awesome noise cancellation and neat feature with the mic to let u listen on what people are talking to u about with out taking them off. was active witht hem and they felt secure. although i did not do full work outs with them so i cant speak to that but felt snug with what i did do, like jogging at the park with my dog PS: mine were refurbished to begin with so maybe a new pair would be more durable
The comfort level has improved with more usage (the first time was less comfortable for me). The sound quality is good, but does lack my ideal level of bass. I used the app to up the bass, but would still like more. I may try comply foam eartips to see if that makes a difference but I will say sound isolation is good with the included tips. The earbuds definitely stay put, which is very important. Best of all, the signal: I do not have one ear drop out on me every minute or two. The connection between the two buds is outstanding. I experience zero issues there. Range from my phone is less than other headphones, but that's easy to solve: keep the phone close. Other true wireless buds have given me a lot of trouble between the buds, and there's no solution for that.
Awesome sound and louder then the Samsung Iconx with other choices of a voice assistants