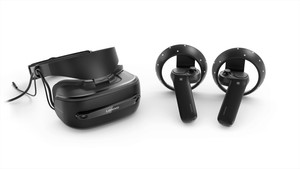 Buy This Item
ebay.com
Features
Non-Domestic Product: No
Field of View: 110 Degrees
Sensors: Accelerometer, Front-Facing Camera, Gyroscope, Magnetometer
Modified Item: No
Refresh Rate: 90Hz
MPN: G0A20002WW
Features: Built-In Microphone, Built-In Audio
Interface: Bluetooth, 3.5mm Audio Jack, USB 2.0, HDMI, USB 3.0
UPC: 191999086226
Custom Bundle: No
User reviews
Delivered surprisingly early. The product itself works as advertised. Camera view has a better angle down and to the sides as opposed to up, but that isn't an obvious problem as most things done will be handled with those very specific, wide angles. Hands in VR space is tracked by the two spread out cameras on the headset; the hands will glitch out horrendously when out of view of the cameras for around a minute. Its number one edge on the VR market is its plug and play nature, there are no need for lighthouses for tracking since there are those aforementioned cameras. I've tested this headset on a variety of VR titles: Gorn; Fruity Shooty; Hotdogs, Horseshoes, and Hand Grenades. Using both the border boundary and sitting setting, I've noted that the headset functions well doing either. Since I've mentioned the hand tracking, one of the crucial features of VR, the controllers are tracked via variety of things when outside of camera view, albeit less accurately. So a plethora of actions like wide "sword swings" in Gorn, shooting a rifle behind you, etc. is totally possible. Do note that when outside of camera view, controllers can only rely on the other forms of tracking other than the cameras which is reliable up to a point. After a short time, your hands in VR space will begin to glitch the longer it is out of view. They'll shake at first subtly but noticeably. Then it will progress into your hands (or hand if it was just one hand out of view) literally being shot across your face and whipping all around. Although this can ruin the immersion, this glitching is not permanent as simply bringing the controllers back to camera view will track them once more. Because of this, keeping your hands around the cameras is certainly a requirement to use this headset but not too much of a hassle. This headset also has a higher resolution than competitors at the moment, save for the HTC VIVE+ which will likely be more expensive by a large amount. Light leak is non-existent. The screen-door effect is better due to the higher resolution but still noticeable. The Windows Mixed Reality programs for Steam is finicky at times, sometimes requiring me to reset the program entirely, but that's a simple, quick fix for such a rare problem. My only true problem is the lack of true adjustment of the lenses unlike the Samsung WMR headset. I've had to lean the headset to match my crooked-ass eyes, which I don't fault the headset at all for not addressing, but some way to change them would have been a significant plus. As it stands, for its price of $259.99 versus the $599.99 of the Vive or 399.00 of the Rift, the headset does exactly as it should.
Build: Great quality product. Everything is sturdy, lightweight and comfortable to use. It's nice that the screen can flip up. Motion Controllers and Room-scale Tracking: I can't overstate how incredible the sense of immersion is with good room-scale position/head tracking and hand tracking and this device delivers. Screen: The screen quality is good and is higher resolution than the original Vive or Oculus, but it still leaves you wanting more clarity. The colors are good, but it would be nice to have brighter whites and blacker blacks. I knew what I was getting and for the price, this is an acceptable trade-off and I the screen quality is overall satisfactory. Lenses: The lenses fogged up on my first few experiences. I'm not sure if it had to do with the temperature, humidity, or what, but it hasn't happened since. Chromatic aberration is highly noticeable except right in the center of your view when looking at images with strong black/white contrast (menus and loading screens). Most of the time I spend in-world, this is hardly noticeable. The lenses are not adjustable, but have been spaced at an average IPD, so it works well for most people. Still, I find myself wanting to be able to fine tune this a bit and am at a loss. I have an iPhone headset which cost me less than $20 which has IPD adjustment, so it's kind of a shame not to have it. That being said, it is nice to be able to just pop it on anyone's head and know they will get a generally well focused image -- one less thing to mess up. The FOV (width of the viewing angle) is great and competes with the best. Content: The state of VR is interesting at the moment. Most games feel more like demos, are dumbed down (apparently to avoid motion sickness), or rely heavily on gimmicks (similar to the original Wii). Some of these types of experiences are actually really incredible (The Lab), but leave you wanting a full experience with wide open worlds to explore. Fortunately, there are a couple of titles that deliver on that promise, Skyrim and Minecraft being the most obvious. Hopefully there will be more to come. Motion Sickness: Not an issue for me other than that I am annoyed with the industry for pushing teleportation so hard to avoid it.
VR is a truly exciting experience. You can really feel that you are in the game. Unfortunately, tracking the controller with a sensor in the headset can result in unstable tracking, but it is not inconvenient for gaming. It is very easy to install, clean and light because it does not have many wires. The delivery was fast, and all the components were safe. However, since there is no battery, keep the batteries in advance.
Very small sweet spot for viewing thru, it's easy for the unit to slide on your face and get the sweet spot out of line, you can tighten the strap to keep it steady but too much can make your forehead sore after about 30 minutes, that the only bad thing, The good side is the image is a lot better then the Oculus or Vive if you don't mind the lcd backlight bleed thru on dark images but the higher resolution makes it worth it. I highly recommend for the price when you get the controllers without paying extra.
Works perfect when combined with VRCover replacement foam (stock stuff is so sweaty for some reason). The Inside Out tracking works for the most part, can't put your hands too far down though. I tested it with Beat Saber, Audio Shield, Superhot, X-Plane 11. All work as intended, except Superhot having an issue that can be fixed via floor adjustment.