LG 55″ Class 4K (2160P) Smart LED TV (55UJ6300) LG $399.00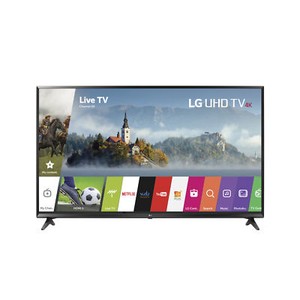 Buy This Item
ebay.com
Features
Smart TV Features: Downloadable Apps, Home Network Streaming, Internet Browsing, Internet Streaming Interface, Not Supported
MPN: 55UJ6300
Additional Features: 2 Port USB Hub, Ethernet Port, Wi-Fi Enabled
Model: 55UJ6300
Audio/Video Inputs: Coaxial F, Component (YPbPr) BNC, Component (YPbPr) RCA, Composite Video RCA, HDMI, USB, USB 2.0, USB 3.0
Display Technology: LED
Color: Black
Max. Resolution: 2160p (4K)
Refresh Rate: 120 Hz
3D Features: Active 3D Technology
UPC: 0719192609891
User reviews
Got it on cyber Monday $485 guess it's a good deal. 55" led. 60hz fake 120 etc..Blah blah blah Bottom line good tv for the under $700 range. Not sure I would notice the difference from this and $1,200 120 hz. Tv. Clear picture no noticeable drag... Easy to set up and comprehend the functions of the remote and the smart features. (direct links to web such as Netflix, YouTube, showtime etc…) The "feet" seem weak but so far are holding on fine. Not an issue for hanging on the wall but if you have rambunctious children or large pets and are planning on sitting on a table or entertainment stand I would caution you that a good bump and it may come tumbling down.
The TV came very quickly and was packed vary well. This LG is very easy to use and i was surprised how well I could hear the speakers. This TV has a lot of features I did not expect on an entry level TV for its price point.
Great TV value for the money. I've owned several brands in the past, including LG. LG had a problem with their speakers being rattled and hollow sounding. They have improved their sound quality. The 4K picture is good quality. The only fault is the cheap 2 piece plastic leg set, it needs an upgrade.
We like the TV and it was easy to set up and use. The only negative thing I have to say is that it's not that easy to figure out how to screen share, especially with your computer. It can do it, but even with going online and reading the manuals, I'm still having trouble configuring it properly. But other than that, it's a great TV, especially for the price.
The tv has amazing picture quality, plenty component attachments, arrived super quick and is overall great! The value was superb as well. So far so good and everything works perfectly.