LG OLED55C8P 4K UHD HDR OLED webOS 4.0 Smart TV LG $1,499.00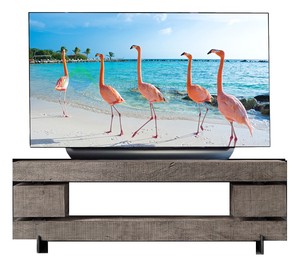 Buy This Item
ebay.com
Features
Built-in Digital Tuner: QAM
MPN: OLED55C8PUA
Model: OLED55C8AUA
Refresh Rate: 120 Hz
Smart TV Features: Downloadable Apps, Home Network Streaming, Internet Browsing
Color: Black
Manufacturer Color: Black
Max. Resolution: 2160p (4K)
Display Technology: OLED
Features: Wall Mountable
Additional Features: 2 Port USB Hub, Bluetooth, Ethernet Port, HDR TV, Headphone Jack, RS-232C, Voice Search, Waterproof, Wi-Fi Enabled
Audio/Video Inputs: Digital Audio Optical TOSLINK, Coaxial F, HDMI, USB 2.0
UPC: 0719192621015
User reviews
I buy these LG OLEDs to use as computer monitors. They have the best quality image out of any screens I've bought so for. Worth the higher cost compared to other TV's when it comes to using as a giant PC monitor (after you get the setting right). Extra Info: I own the 2017 and the 2018 and so far I don't notice any significant difference between them, except the Web OS menu. There is no noticeable input lag when using as a PC monitor. The picture does auto dim, which gets annoying with multiple monitors. There is probably a way to turn it off, but haven't fount it yet.
This is a GREAT television. The OLED creates a fantastic picture. My wife has had problems hearing other tvs but this one has the ATMOS sound which she absolutely loves. You can't do better with any other tv.
Won't find a better deal for this TV anywhere on the internet.
What a great TV, picture, smartness and all.
It's outstanding, a very good choice.